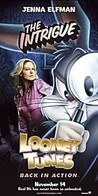 Starring:

Brendan Fraser

,

Heather Locklear

,

Jenna Elfman

,

Steve Martin

Summary:

Bugs Bunny and Daffy Duck are up to their feudin' ways again as the entire Looney Tunes menagerie star in a feature film set entirely in a live action world and interact with "live" 3-D costars throughout the picture. (Warner Bros.)
Director:

Joe Dante

Genre(s):

Adventure

,

Comedy

,

Animation

,

Family

Rating:

PG

Runtime:

91 min
Please enter your birth date to continue:
You are not allowed to view this material at this time.
It's flat-out comedy all the way, head-spinningly clever (you'll be talking about a sequence set in the Louvre for weeks) and always engaging. For my money, it's the comedy of the year.

The movie looks like it cost a fortune, with Dean Cundey's glistening widescreen compositions and Bill Brzeski's towering, storybook sets providing the backdrop for seamless visual effects. What's more, it's equally rich in ideas.

Fraser, Martin, and the rest of the flesh-and-blood characters look like they're having a ball, which translates instantly to the audience as well.

Even when the movie works, it's so much like having Daffy Duck assault your face that you want to buy a box set of elevator music for the calming drive home.

A not-inventive-enough romp that belches out gags at a rapid-fire clip but connects so sporadically as to leave the audience enervated but only sparingly entertained.

The film is preoccupied with whiz-bang adventure rather than storytelling. There's also too much cartoon violence for young kids.

There are flashes of wit -- Speedy Gonzales muttering about political correctness and an arty chase through the Louvre. But there is also random flatulence, a.k.a. the stink of desperation.
This movie is pretty hilarious, if you enjoy cheesy comedies, or just love the Looney Tunes characters, this is a movie you should look into,

This movie is pretty hilarious, if you enjoy cheesy comedies, or just love the Looney Tunes characters, this is a movie you should look into, you wont regret it.

…

Expand

It's flawed, but unlike Space Jam, which completely desecrated the integrity of Looney Tunes for the sake of crass commercialism, it

It's flawed, but unlike Space Jam, which completely desecrated the integrity of Looney Tunes for the sake of crass commercialism, it actually focuses on the titular characters and why they are funny in the first place. The humans are pretty boring and annoying for the most part (save for Joan Cusack's cameo), but Dante's trademark pop culture references and obvious love for the institution of Looney Tunes keep it well above water, with some truly inspired moments. Its bombing is testament to the idiocy of the moviegoing public in general.

…

Expand

It is witty. It flashes into the wit of the old cartoons, quite often in fact. But, not as good as them. But then again, not many cartoons

It is witty. It flashes into the wit of the old cartoons, quite often in fact. But, not as good as them. But then again, not many cartoons are these days.

…

Expand

It is acceptable, only that I can say. is better than the last? I would say yes, Joe Dante brings the freshest looney tones, with more

It is acceptable, only that I can say. is better than the last? I would say yes, Joe Dante brings the freshest looney tones, with more charisma and more action.

…

Expand

Looney Tunes: Back in Action, isn't one of those movies that you can watch over and over but it will provide some great entertainment and

Looney Tunes: Back in Action, isn't one of those movies that you can watch over and over but it will provide some great entertainment and cheesy laughs.The first 20 minutes or so will poke fun of stuff from Warner Brothers from the past ten years ( well when it was released in 2003, it'll be 19 years in todays standards). Brendan Fraser is a likeable hero. as well as Steve Martin as a villian. I found however the females performances with the exception of Joan Cusack ( She can't do anything wrong) were awful and wooden. Some of the jokes could of been better but they also could of been worse. Overall it's just some dumb, well-animated fun. Perfect for a rainy sunday afternoon or something to shut the kids up.

…

Expand

Yes, the Looney Tunes are back in action, but the story is a mess and it gets tiring after a while. The mix between real life and Looney Tunes

Yes, the Looney Tunes are back in action, but the story is a mess and it gets tiring after a while. The mix between real life and Looney Tunes doesn't work well here.

…

Expand

This review contains spoilers, click expand to view.

Yes, the movie may have had the Looney Tunes charm I remember watching as a kid, but I can't help but feel that the movie was trying to destroy the much better movie Space Jam's legacy. And while I don't really have anything against fart jokes in movies, did you really have to make Taz fart? Thanks for ruining my childhood idiots.

…

Expand