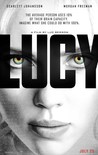 Starring:

Amr Waked

,

Analeigh Tipton

,

Jan Oliver Schroeder

,

Johan Philip Asbæk

,

Julian Rhind-Tutt

,

Min-sik Choi

,

Morgan Freeman

,

Nicolas Phongpheth

,

Pilou Asbæk

,

Scarlett Johansson

Summary:

Lucy (Scarlett Johansson) accidentally gets caught up in a drug deal, but she soon turns the tables on her captors and transforms into a merciless warrior evolved beyond human comprehension.
Director:

Luc Besson

Genre(s):

Action

,

Sci-Fi

,

Thriller

Rating:

R

Runtime:

89 min
Please enter your birth date to continue:
You are not allowed to view this material at this time.
The summer's best, coolest, juiciest, smartest action movie.

Besson is at his balls-out bonkers best in this genre-scrambling, mind-expanding exhilarator.

When it comes to sheer comic-book fun, few summer movies deliver a more consistent, satisfying, thoroughly enjoyable shot of cinematic jouissance than the delightfully adventurous actress Scarlett Johansson's latest bit of strange, Lucy.

Giddily recycling everything from "2001: A Space Odyssey" and "The Matrix" to yakuza actioners and National Geographic documentaries, it's a garish, trippy, wildly uneven and finally quite disarming piece of work, graced by a moment-to-moment unpredictability.

This ridiculous, highly watchable, at points startlingly psychedelic action thriller is probably Luc Besson's best film since 'Léon' (which isn't saying a great deal).

There are moments of real wonder and even beauty amidst the slam and the bang and the big bada boom, and while Lucy is a mixed bag, it's been mixed by a master, and it is delightfully, happily insane.

Besson has always demonstrated the ability to chuckle at the madness of his own material, and he provides some solid laughs from time to time. But these winks do nothing to erase the reality of a plot that becomes unintentionally hilarious.
I thought the movie was great. It had a spiritual message that provoked one to thought. I love action movies and this film does give lots of

I thought the movie was great. It had a spiritual message that provoked one to thought. I love action movies and this film does give lots of action; however, typically action movies don't offer any depth to the storyline. "Lucy," does provide depth and need for thought and I left contemplating its message. It reminded me a bit of the Matrix. The message was a labyrinth of possibilities.

…

Expand

Lucy es una película de ciencia ficción que te mantiene estimulado desde el primer momento que empieza la película hasta su final.

SinLucy es una película de ciencia ficción que te mantiene estimulado desde el primer momento que empieza la película hasta su final.

Sin dudas esta película es un film bastante acelerado, en donde lo único que hace es ir directo al grano en cada punto de la trama, manteniendo al espectador en un estado de adrenalina bastante consecutivo, convirtiéndola en un largometraje que mantiene un ritmo veloz durante todos sus 89 minutos, entregando al público y siendo una ciencia ficción de ideas.

…

Expand

- a somewhat sci-fi thriller that depicts the origin of life.
You could say it starts off as a bit of a joke. Or just a really bad version of- a somewhat sci-fi thriller that depicts the origin of life.
You could say it starts off as a bit of a joke. Or just a really bad version of a 007 wanna-be-badass replica. Even Johannson's acting starts off like a joke; literally, she seems to be laughing more than crying herself through the first ten minutes of the film.
However, Lucy transcends with every passing minute – as if the quality of the film and it's acting were corresponding to the percentage of brain capacity that the protagonist female-gone-super-human android is using.
It is one of those films, whose idea clearly surpasses cinematographic capabilities - time, space, gravity, and the origin of cells that build life and our reality - it is one of those films, that you watch skeptically, but are patient and open to giving it a chance. You watch, learn and enjoy, but after that start are all the while still deciding whether this is total guff, whether you have been ripped off at the theatre counter, and served quantum-physics starters-pack drivel with some Scarlett glitter on top to cover it up?
About midway through, I decided to give it a chance. A real chance. A chance at blowing me away and taking my mind to places unexplored, allowing my brain synapses to dance and go wild, tying together all my theories about life with what I was learning whilst fixing my eyes upon the screen. It worked.
The key is, to see film as art. To take what you can get from it. Not to critizise (and believe me there was a lot of moaning and dis-missing going on in the seats around me) but to make the most of it. Yes you CAN.
Once this happens (and there have been a lot of films where it just doesnt happen, let me just say 'The Counsellor') you are free to go and experience that wonderful world of time, intelligence and purpose of life that is Lucy. Maybe I am an optimist who was fed cyborg-bullcrap and went off on it – maybe I fell in love with the idea of being- and playing Scarlett's part, but in any case, I am glad to have seen this film, as it let me exit that cinema with sharpened senses and let me glide into the night feeling alive, thursting for knowledge, finding life intelligent and beautiful. Each step was beautiful.

…

Expand

I don't understand how Lucy actually has got Positive reviews.This movie is really boring and doesn't have any reason what so ever to even be

I don't understand how Lucy actually has got Positive reviews.This movie is really boring and doesn't have any reason what so ever to even be existing.It doesn't make any sense at all,the character Lucy is boring and let's not even being with the Directing that feels so dumb and uneven.There are some good parts at times but overall Lucy is just a huge let down.

…

Expand

I did not care about the science portion of this. It's a movie, so who cares? What did bother me, however, was just how dumb the rest of it

I did not care about the science portion of this. It's a movie, so who cares? What did bother me, however, was just how dumb the rest of it was. An interesting premise turned into something I cannot quite place my finger on. The special effects were cool, but as she gained brainpower, it seemed like she just learned how to create special effects with her eyes more than anything else. The film is stylish and pretty classic Luc Besson in its exploration of heady ideas and a greater purpose, but the film thinks it is way smarter than it actually is as it tries to answer the questions behind our existence and evolution. However, it is clear that the strategy the film opted for in this regard is to throw everything it had at a wall and see what stuck. Not much sticks, but it did deliver pretty visuals and fun action. As far as turn your brain off blockbusters go, Lucy could be worse, but it is quite the no brainer.

…

Expand

One day a struggling screenwriter took some mushrooms, and while watching The Shawshank Redemption, started a script about a girl who takes

One day a struggling screenwriter took some mushrooms, and while watching The Shawshank Redemption, started a script about a girl who takes the blue meth from breaking bad and it turns her into an emotionless metaphysical superhero.

The result was Lucy.

Its not very good.

…

Expand

I can't be any more helpful than to warn the reader NOT to buy this film. It's really really bad... Why? Well, just think of any bad movie

I can't be any more helpful than to warn the reader NOT to buy this film. It's really really bad... Why? Well, just think of any bad movie you've seen in the last 10 years and you'll have your typical set of reasons.

…

Expand