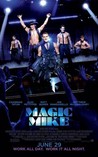 Summary:

Set in the world of male strippers, "Magic Mike" follows Mike as he takes a young dancer called The Kid under his wing and schools him in the fine arts of partying, picking up women, and making easy money. [Warner Bros. Pictures]
Director:

Steven Soderbergh

Genre(s):

Biography

,

Drama

,

Comedy

Rating:

R

Runtime:

110 min
Please enter your birth date to continue:
You are not allowed to view this material at this time.
As we face yet another summer of brooding superheroes, it's Magic Mike to the rescue! He's got the civilian alter ego and the acrobatic skills to rival Spidey or Batman.

Director Steven Soderbergh is working very near the top of his game here, and if Magic Mike tells an old, old story about a young man, his talent, his rise, and his fall - see everything from "Saturday Night Fever" to "Boogie Nights" - he brings the confidence of a born filmmaker and a cast that's sharper than their characters and ready to play.

Soderbergh lets his hair down with a frank, funny dramedy that bulges with humour, heart and smarts as McConaughey gives it everything he's got, in a potentially gong-grabbing turn.

Like "The Girlfriend Experience," Magic Mike doubles as an of-the-moment film about life in a down economy, so much so that it would play like a bait-and-switch if it didn't just as thoroughly deliver as a movie about stripping.

Almost as impressive as Tatum's moves are his comic flair and breezy grace. He proved his comic talents earlier this year in "21 Jump Street" and shows them off winningly here.

The process is called acting, and the man (Tatum) in the title role of Steven Soderbergh's flashy, not-so-trashy entertainment does it so well that the debate should be officially ended.

Life, however, cannot be lived entirely on stage, and once the characters have to take off their thongs and return to their real lives, the film goes nowhere that is either interesting, involving or surprising.
Amazing :) I had the best time yesterday with my sisters and mama.. The energy from the crowd. The movie was exactly what was promised and it

Amazing :) I had the best time yesterday with my sisters and mama.. The energy from the crowd. The movie was exactly what was promised and it was nice that finally the lady's had something good to watch and do while the men were at home..

…

Expand

Most fun film of the summer so far. Weird, dark, and not at all what you're expecting it to be, this movie stuck with me. Don't trust the

Most fun film of the summer so far. Weird, dark, and not at all what you're expecting it to be, this movie stuck with me. Don't trust the trailer! This movie is all about stripping away your notions of sexiness and exposing (yes, I know) the world of male stripping as a neurotic little worm-hole. And yet to the director's credit the movie sails along and is almost always a blast!

…

Expand

This review contains spoilers, click expand to view.

Very much a Soderbergh film, Magic Mike definitely entertains - and is a tour de force for McConnahey's acting and Tatum's dancing. I was a little disappointed that we didn't get a few more lines from Bomer. My single favorite aspect of the film is the chemistry between Mike and The Kid's sister. While the rest of the film is so seedy and in-your-face with its overt and aggressive sexuality, their relationship isn't consummated at all - instead, they come together in a very classy, traditional, romantic way, finally touching hands and sharing a kiss in the film's final frame. Nice.

…

Expand

Magic Mike is an excellent picture because it is more than showing Channing Tatum's ass to screaming morons at movie theaters across America.

Magic Mike is an excellent picture because it is more than showing Channing Tatum's ass to screaming morons at movie theaters across America. This film shows us insider details of male strippers which is a topic or career that rarely receives attention. Few of us will become doctors, and even fewer strippers, but that does not make us curious about how they live and what it would be like to be in their shoes. www.screenspotlight.com

…

Expand

It has a surprising factor. It´s pretty fun to watch all these actors taking these roles, they do it surprisingly good. The problem is the

It has a surprising factor. It´s pretty fun to watch all these actors taking these roles, they do it surprisingly good. The problem is the good things end there. The plot goes nowhere and the film becomes too superficial. Even boring in the second half, when the novelty is over. It had potential though.

…

Expand

This movie wasn't anything. It was air. The plot was more or less non-existent, the acting was sub-par at best, the dialogue was average and

This movie wasn't anything. It was air. The plot was more or less non-existent, the acting was sub-par at best, the dialogue was average and the dance scenes seemed forced. Utterly forgettable, incredibly average, a total yawnfest that ran way too long. See this movie only as a last resort.

…

Expand

This movie was terrible. I am so disappointed with Steven Soderbergh, and the writer Reid Carolin. I went with a couple of friends for her

This movie was terrible. I am so disappointed with Steven Soderbergh, and the writer Reid Carolin. I went with a couple of friends for her 16th birthday. We all were so disappointed. Yes, we did just go to see it for the hot guys, but come on, what a horrible plot line and camera angles. Right from the beginning, the camera above his truck...never do above shots for no reason, ever. I could have directed this better! There was no real ending to movie and there was just too many different plots happening at once. Don't see this movie. Maybe rent it from Redbox, to see the hot guys, but, ughhh. This was just the worst.

…

Expand