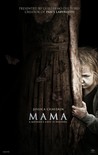 Summary:

Annabel and Lucas are faced with the challenge of raising his young nieces that were left alone in the forest for 5 years.... but how alone were they?
Please enter your birth date to continue:
You are not allowed to view this material at this time.
Plenty of horror movies are willing to settle for making audiences jump. Mama is more ambitious by far: It makes sure viewers are emotionally committed even when they aren't clutching their armrests or covering their eyes.

Nothing in the movie is quite original, yet Muschietti, expanding his original short, knows how to stage a rip-off with frightening verve.

Mama is skillfully made, and although Chastain is the best thing in it, she's not the only thing in it.

It's a good, old-fashioned sit-around-the-campfire ghost story, one that delivers on its sole reason for existence: to raise the hairs on the back of your arms.

Beautifully envisioned, badly constructed, the only truly terrifying things in the new horror movie Mama are the fake tattoos, short black hair and black T-shirts meant to turn "Zero Dark Thirty" star Jessica Chastain into a guitar-shredding, punk rocker chick.

The atmosphere is appropriately creepy, and there are some starts, if not outright scares...But it just gets stupid.

The premise isn't even worthy of executive producer Guillermo del Toro, who will apparently lend his name to any film as long as it fulfills its quota of moths and vulvic openings.
This review contains spoilers, click expand to view.

Mama has a really crazy story, having the so called "entity" feel much more realistic and physical-ish. The Mama entity is so chilling to see, loved every aspect, it's so interesting to see that the kids are so natural and relaxed around it. Couldn't ask for a better cast; I love Jessica Chastain, and Nikolaj Coster-Waldau characters they have great chemistry. This cinematographer, Antonio Riestra... wow amazing at keeping me at the edge of my seat. Also props go to Michele Conroy for editing. And don't I want to forget the Director, Andrés Muschietti, for doing such an amazing job! Mama will forever remain in my Top Horror movies of All time!!

…

Expand

Let me first just get this out of the way, Mama isn't a scary movie. Despite its lack of any sort of fear it's still an enjoyable movie thanks

Let me first just get this out of the way, Mama isn't a scary movie. Despite its lack of any sort of fear it's still an enjoyable movie thanks to it's well written plot. It's filled with mystery and likable characters. As you learn more details about the plot, and what exactly "Mama" is, you begin to see a bitter-sweet side of the story. It's actually kind of a sad tale. Mama managed to keep watching, and most importantly interested, because I actually cared about the characters and their fates. I watched this movie in hopes of getting a good scare, and while the movie didn't deliver any frights whatsoever it still kept me entertained and I find that impressive. So I recommend Mama, not for frights, but for story.

…

Expand

Mama is Guillermo Del Toro latest work in which shows why he is one of the great horror film directors out there;as he uses great camera

Mama is Guillermo Del Toro latest work in which shows why he is one of the great horror film directors out there;as he uses great camera angles and sound effects to created suspense and mystery, However, the story never truly evolves or captivates as it's supporting characters felt lost in the story. In the end, Mama is a decent horror film.

…

Expand

For 5 years, 2 little girls are raised in the woods by a ghostly specter. When they're returned to civilization, they move in with their uncle

For 5 years, 2 little girls are raised in the woods by a ghostly specter. When they're returned to civilization, they move in with their uncle (Nikolaj Coster Waldau) and his girlfriend (Jessica Chastain). Of course, their "mama" comes with them. This is a relatively well-told ghost story with a creepy atmosphere, some nice surprises and a few good scares. Since there's only one evil presence, the intrigue is limited. To make things worse, it completely falls apart by the time we get to the laboriously overdone ending. Fans of the genre might enjoy much of it, but it's not special in any way. (And what happened to the dog?)

…

Expand

Terrifying all around. Well-thought of and beautifully executed. Jessica Chastain proves she will never fall into typecasting as she boldly

Terrifying all around. Well-thought of and beautifully executed. Jessica Chastain proves she will never fall into typecasting as she boldly takes on this role.

…

Expand

Disappointing and lacking in scares or chills, yet enjoyable. The film may have a great performance from Jessica Chastain, but her character

Disappointing and lacking in scares or chills, yet enjoyable. The film may have a great performance from Jessica Chastain, but her character is unlikable and not a lot of people will care for her. There are indeed some creepy moments, but the film lacks scares and some moments come off as unintentionally hilarious and really silly, probably due to lame and unnecessary CG. The film's ending is strange but beautiful yet plenty of people will probably not like it. Overall, Mama is decent but disappointing and lacking in scares.

…

Expand

Guillermo del toro has made great films in the past but this time the presents logo has let him down. Mama is not a great film. It doesn't

Guillermo del toro has made great films in the past but this time the presents logo has let him down. Mama is not a great film. It doesn't give you creepy jeepers from movies like Paranormal Activity, it's a crappy horror movie with bad CGI effects and jessica chainten was "meh". This film absolutely has no story, the0 is only for some of the creepy performances. 0/10. Nothing more.

…

Expand