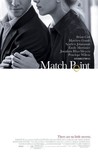 Summary:

Match Point is a drama about ambition and obsession, the seduction of wealth, and the often discordant relationship between love and sexual passion. Perhaps most importantly, however, the story reveals the huge part luck plays in the events of our lives, refuting the comforting

Match Point is a drama about ambition and obsession, the seduction of wealth, and the often discordant relationship between love and sexual passion. Perhaps most importantly, however, the story reveals the huge part luck plays in the events of our lives, refuting the comforting misconception that more of life is under our control than really is. (Dream Works Pictures)

…

Expand
Director:

Woody Allen

Genre(s):

Drama

,

Sport

,

Thriller

,

Romance

,

Crime

Rating:

R

Runtime:

124 min
Please enter your birth date to continue:
You are not allowed to view this material at this time.
One reason for the fascination of Woody Allen's Match Point is that each and every character is rotten.

It's a sexy thriller, tautly constructed, deeply acted and heartfelt, despite a cool and knowing tone.

Match Point begins to recall Hitchcock as it unfolds, although it wouldn't be right to call it a thriller. This is still very much a Woody Allen movie, populated by upper-class characters who chatter about literature and fine art, frequent museums and designer boutiques and accidentally run into each other on the street with uncanny regularity.

Match Point is fantastic to look at, sharply dramatic and Allen is--who knew?--a master of suspense.

Match Point starts out crisply and deliciously, but in the end, it's a chess problem crossed with an ethics exam.

Just when the seemingly endless scenes of Johansson's nagging threaten to sink Match Point for good, the movie becomes the thriller that early reports promised.

A modest and mildly pretentious mediocrity in the Woodman canon.
It's like night and day from some of his recent films. It's entertaining, brilliant, interesting, and perfectly cast. The reviewers

It's like night and day from some of his recent films. It's entertaining, brilliant, interesting, and perfectly cast. The reviewers are way underrating this film. Woody-prejudice abounds. But this film is not a Woody Allen film--it's just a really good film....great storytelling, classic and modern with a palpable tension. It's a model film.

…

Expand

The storyline is absolutely brilliant. It really keeps you grasped throughout the entire film. A very good comeback for Woody Allen. I

The storyline is absolutely brilliant. It really keeps you grasped throughout the entire film. A very good comeback for Woody Allen. I don't usually like his movies, but this was different...It was good.

…

Expand

This is one of my favorite movie ever. It's a very smart plot (normal for Woody), about a ambicious and smart tennis player, who uses his

This is one of my favorite movie ever. It's a very smart plot (normal for Woody), about a ambicious and smart tennis player, who uses his interest in high culture to penetrate the upper class. Chris is completely amoral. He just coldly calculates the probability of success. Woody plays well with the theme of luck (which is common in his movies), including two interesting scenes, one at the begginning, with a tennis ball touching the net and luck defining in which side of the court it is going to fall, and another one at the end that makes you anticipate, wrongly, the end of the movie. Scarlett is gorgeous. Myers delivered a good performance. The movie oscilates a lot in its plot, as luck is seemingly defining the path the characters take, and the end tends to be not what you expected (unless you know Allen well). It is philosophical, entertaining, full of suspense and sexy. A masterpiece in my opinion. Dostoevsky would be proud, despite the alternative, nietzschean ending.

…

Expand

Brilliantly captures British upper class. Well written, provocative storyline, well acted. Defintely very very good with moments where the

Brilliantly captures British upper class. Well written, provocative storyline, well acted. Defintely very very good with moments where the insights make it great.

…

Expand

The movie was full of great ideas only half-baked. I thought I would love it shortly into it, but I barely made it to the end. Woody Allen

The movie was full of great ideas only half-baked. I thought I would love it shortly into it, but I barely made it to the end. Woody Allen needs someone on his team to take care of the details. I was aggravated by the waste of the potential this movie had.

…

Expand

Hugely overrated film. Was so disappointed with it in so many ways. No character was believable or well-developed, the dialogue was rubbish,

Hugely overrated film. Was so disappointed with it in so many ways. No character was believable or well-developed, the dialogue was rubbish, the plot seemed to have been hatched by a 6 year old and Scarlett Johanssen was completely wasted. She is too good for this banal crap.

…

Expand

Perhaps you'd have to be British to recognise just how crass and unconvincing the film Match Point is. The main characters are a

Perhaps you'd have to be British to recognise just how crass and unconvincing the film Match Point is. The main characters are a nauseating collection of upper crust twits and to call the dialogue cardboard would be an insult to cardboard.To read the positive reviews one begins to suspect some weird conspiracy amongst the stale and tired aristocracy of movieland. A final point on the subject of bouncing tennis balls - it's not luck but physics that decides a balls trajectory. Please refer to Newtons laws on motion. And so what if luck plays an important part in our lives? Oooh deep! PATHETIC!

…

Expand