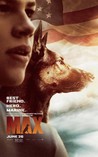 Starring:

Josh Wiggins

,

Lauren Graham

,

Luke Kleintank

,

Robbie Amell

,

Thomas Haden Church

Summary:

A precision-trained military dog, Max serves on the frontlines in Afghanistan alongside his handler, U.S. Marine Kyle Wincott. But when things go terribly wrong on maneuvers, Kyle is mortally wounded and Max, traumatized by the loss of his best friend, is unable to remain in service.

A precision-trained military dog, Max serves on the frontlines in Afghanistan alongside his handler, U.S. Marine Kyle Wincott. But when things go terribly wrong on maneuvers, Kyle is mortally wounded and Max, traumatized by the loss of his best friend, is unable to remain in service. Shipped stateside, the only human he seems willing to connect with is Kyle's teenage brother, Justin, so Max is adopted by Kyle's family, essentially saving his life. But Justin has issues of his own, such as living up to his father's expectations for him; he isn't interested in taking responsibility for his brother's troubled dog. However, Max may be Justin's only chance to discover what really happened to his brother that day on the front, and with the help of a tough-talking young teen, Carmen, who has a way with dogs, Justin begins to appreciate his canine companion. Justin's growing trust in Max helps the four-legged veteran revert back to his heroic self, and as the pair race against time to unravel the mystery, they find more excitement—and danger—than they bargained for. But they each might also find an unlikely new best friend…in each other.

…

Expand
Director:

Boaz Yakin

Genre(s):

Adventure

,

Family

Rating:

PG

Runtime:

111 min
Max is a throwback of sorts - a movie about the relationship between a boy and his dog. Lassie springs to mind as the genre classic, but this has a closer kinship to Rin Tin Tin. Although its sensibilities are old-fashioned, the movie offers a modern look and feel.

This fine and welcome piece of family entertainment, directed by Boaz Yakin from a script he wrote with Sheldon Lettich, gets to a sweet spot by way of a smart premise, patriotic undertones and a coming-of-age story that's downright stirring.

When the movie morphs from a story of mutual healing into a crime-fighting caper, it goes off track.

Max is a genial if somewhat old-fashioned tale that's too clunky to transcend its genre(s) but effective enough within its own limited emotional range.

As the intrepid kids and the fearless hound unravel a nefarious weapons-dealing scheme, Max finds its sweet spot, leaving behind its overwrought patriotic swagger and settling into the kind of story that would fill a decent hour of television.

This is a busy, moderately entertaining slice of family-friendly fluff. It's flatly directed and functionally acted.

Dullness, as well as hoary preachiness, neuters the family-and-their-war-dog drama Max.
This is a great family movie and shows how in real life you face challenges and you should always be honest with your family regardless! Great

This is a great family movie and shows how in real life you face challenges and you should always be honest with your family regardless! Great story and Very enjoyable and Go Max!!

…

Expand

It's fun and I enjoyed the movie. This is a great family movie that everyone will surely enjoy. Nice story.

Watch it here for freeIt's fun and I enjoyed the movie. This is a great family movie that everyone will surely enjoy. Nice story.

Watch it here for free http://www.watchfree.to/watch-2a32f8-Max-movie-online-free-putlocker.html

…

Expand

Max is an amazing, powerful family film that I would like to watch again. The dog was great, and the movie just had emotions. It had a

Max is an amazing, powerful family film that I would like to watch again. The dog was great, and the movie just had emotions. It had a powerful message and I felt like kids will also enjoy it.

…

Expand

Not even Max himself can save this movie.

The story is about Max a truly man's best friend - deployed with the Marines in Afghanistan, MaxNot even Max himself can save this movie.

The story is about Max a truly man's best friend - deployed with the Marines in Afghanistan, Max puts his skill to the test and his life on the line. But just like soldiers, Max also suffers from PTSD - and after a particularly traumatic experience he is taken by his handler to live with his family in the U.S.

A lot of people asked me if I like dogs and the answer is yes, but I don't own a dog. I like watching movies with dogs, cats or any other animals in the movie and even when the movie sucks at least you got to see cute animals and enjoy watching them. That's why I saw Max because back in April when I saw the trailer to film I actually thought this was going to be a good movie, because the trailer was pretty sad and looked like it could have been a pretty good movie, but after seeing the movie I couldn't believe how cliche this movie was, I mean wow this is really not good.

Max the dog was the only good thing in the movie. Animals lovers or just anyone will easily love this dog and even I did. I can't believe I'm saying this but the dog give a much better performance then the other actors in the movie, now I'm not saying they were terrible but they didn't really do anything to wow me with they acting, but they was one scene in this movie were Lauren Graham (Who plays the mother) breaks down in tears at the dinner table with the family together and she's crying over her sons death and oh my god was her performance was pretty terrible and she wasn't very convincing when she was upset, but all through out the movie she did okay in the movie but it's just that one scene were is suppose to be heartbreaking moment but it didn't work at all just by that fake cry.

The movie really dose force this emotionally message in your face that really dose get annoying afterwards. I mean if the film makers were smart enough they wouldn't do that and that's to play force sad music to scene that's already sad enough that could have cut out the cliche sad music and let the performance sell the scene. I hate when movies do that, I mean the film makers playing sad music to tell the audiences to feel sad for a scene is just awful. Now some music dose work with some movies but it also doesn't work for some.

The ending to the movie which I won't give a way but the ending to this movie is so freaking ridiculous and so unrealistic. It involves guns, explosions and the father and son somehow not getting shot were they should have been just because they were in a shot out battle, I mean What the f**k? and this is a family movie by the way.

Now is this a good family movie well the family will of course overlook these flaws and enjoy the movie for what it is, so I think yes and I mean they will enjoy and you may enjoy it. If you disagree with me that's fine, but what I said in this review is staying like that and the fact that this has to be the most cliched movie of this year.

…

Expand

With its glorious PG rating, Max fails immensely to depict the real life story and tragedy of a dog and a family, thus turning out to be a

With its glorious PG rating, Max fails immensely to depict the real life story and tragedy of a dog and a family, thus turning out to be a ridiculously tame film populated with annoying characters and wooden acting.

…

Expand

This review contains spoilers, click expand to view.

If I had known this movie was about gun running to Mexico, with children and dogs being chased by bad men with guns, as a subplot to a Disney channel style movie I would not have taken my twin 10 year old daughters to see it. It seemed to be a PG-13 movie awkwardly (and poorly) fit into PG movie. Any attempt at a message or moral was completely lost on my children.

…

Expand

Max is one of those movies that leaves you wanting your time and money back. It is very disappointing, when I saw the trailer, Max looked like

Max is one of those movies that leaves you wanting your time and money back. It is very disappointing, when I saw the trailer, Max looked like a cute, warm and sad film that I could enjoy with my family. Well, I took them last night for a get together, we loaded up on our snacks and popcorn. And then it started. In the hot, humid, sticky theatre, we watched an uncomfortable film and sat there wondering how we could have spent that 60 dollars and 2 hours of our lives. I asked my family about it, they said that the dog was the only good part about it. Wow, the movie is poorly written and directed, with horrible tear jerking moments. Max is really bad, like Aloha and San Andreas are more enjoyable. Ignore, please ignore.

…

Expand