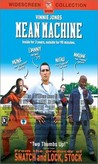 Starring:

Vinnie Jones

Summary:

This British remake of 1974's "The Longest Yard" is set in a rough-and-tumble British prison, where murderers, thieves and assorted madmen are locked away. One inmate is about to lead them all in the ultimate battle of their degenerate lives -- but no one could have guessed it would be a

This British remake of 1974's "The Longest Yard" is set in a rough-and-tumble British prison, where murderers, thieves and assorted madmen are locked away. One inmate is about to lead them all in the ultimate battle of their degenerate lives -- but no one could have guessed it would be a soccer match! (Paramount Classics)

…

Expand
Director:

Barry Skolnick

Genre(s):

Drama

,

Sport

,

Comedy

Rating:

R

Runtime:

99 min
Please enter your birth date to continue:
You are not allowed to view this material at this time.
A likably energetic star vehicle for English sports god Vinnie Jones.

I'm not sure Mean Machine is any worse than "The Longest Yard," but it lacks the nihilistic '70s background that lent the latter's combination of humor and brutality an air of (arguably bogus) social commentary.

Accomplishes a near miracle -- this British import makes you yearn for Burt Reynolds, who appeared in a vastly more entertaining version of the same story.

It does, however, fairly bubble with speed-freak energy and a dry, laddish wit that keeps the jokes coming.

In Mean Machine, soccer is pretty much an excuse to watch a bunch of grown men smashing their heads together. Which, come to think of it, may be enough.

While competently staged and punched up by Lock, Stock's changing camera speeds, it doesn't have the wit or intrigue to sustain its half-length.

If you have any desire to see this movie, you really should go rent "The Longest Yard" instead. It's available on DVD, and the '70s hairdos alone are worth the rental price.
Great movie! Action, Drama, and Comedy all in one package.

Excellent movie the monk is a ledge.

I know is This British remake of 1974's "The Longest Yard" is set in a rough-and-tumble British prison. BUT independent of it is an

I know is This British remake of 1974's "The Longest Yard" is set in a rough-and-tumble British prison. BUT independent of it is an excellent performance, great humour, nice picture, music goes right to the action on film, every detail is there. I think even it is and adaptation it is a much better version. New times are sometimes better. I love the movie, I laugh and laugh.

…

Expand

English remake of the 1970's Burt Reynolds American football romp.
Former England captain, off the rails, gets arrested for drink driving,English remake of the 1970's Burt Reynolds American football romp.
Former England captain, off the rails, gets arrested for drink driving, assault, etc then ends up in prison with several unsavoury characters.
He then gets together a team of inmates to play against the guards.
It's ok in parts, Jones plays himself, Statham is ok until he speaks & it's all a bit bland. David Kelly & Danny Dyer are good though & the music isn't too bad.

…

Expand