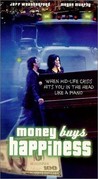 Summary:

Part absurdist comedy, part realist character study, this film chronicles an intertwined odyssey - the dance of two lovers growing in different directions, each at a different pace, and their attempts to rediscover each other. (Two Boots Pioneer Theater)
Director:

Gregg Lachow

Genre(s):

Drama

Rating:

R

Runtime:

109 min
Please enter your birth date to continue:
You are not allowed to view this material at this time.
Weatherford and Murphy lead a young and bright cast. All in all, Money Buys Happiness shows that Lachow is a director worth keeping an eye on.

Camera compositions are curious, even poorly framed at times, but helmer's gift is in directing actors and building scenes around physical actions, much like silent filmmakers.

The Sisyphean ordeal at the heart of the film strongly recalls Roman Polanksi's 1958 short "Two Men and a Wardrobe," while Lachow's loose, improvisatory approach -- as well as the occasional self-indulgence -- feels more like Henry Jaglom.

The restless, selfish, unfriendly people created by Lachow as protagonists only make the movie hard to warm up to. It's more akin to fingernails scraping a blackboard than an updated morality play.

Unless you're struck by the urge to watch strangers work out their petty issues in couples therapy, it's hard to find a compelling reason to sit through Gregg Lachow's irritatingly self-absorbed indie drama.

Lachow goes for cuteness and whimsy every chance he gets, missing a lot more often than he hits.

About 20 minutes in, it is clear that the couple will emerge as nothing more than crabby yuppies whose articulation of their pouts sounds like the same argument over and over again.
Published:

August 26, 2016

Get a list of the best movie and TV titles recently added (and coming soon) to Netflix streaming, updated frequently. You can also find a list of titles expiring soon.

Published:

August 26, 2016

Watch all of this week's new film trailers, including new looks at Kenneth Lonergan's Manchester by the Sea, Damien Chazelle's La La Land, Adam Wingard's Blair Witch, and more. Plus, get a quick update on the latest movie news and release date announcements.