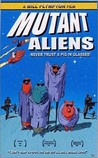 Starring:

Dan McComas

,

Francine Lobis

Summary:

A wildly humorous yet poignant story about an astronaut, his daughter, and 5 violent, yet sympathetic, alien creatures who seek revenge against a space industry baron. (Bill Plympton)
Director:

Bill Plympton

Genre(s):

Sci-Fi

,

Comedy

,

Animation

Rating:

R

Runtime:

81 min
It's full of Plympton's trademark twisted humor, with lots of sex thrown in.

Though this rude and crude film does deliver a few gut-busting laughs, its digs at modern society are all things we've seen before.

The general level of mayhem, the sudden transformations that are Plympton's trademark moves and the pervasive irreverence will no doubt delight Plympton's legion of fans; others may find 80 minutes of these shenanigans exhausting.

Mutant Aliens would have been brilliant as a short; there's just not enough story for a full-length feature, so the film seems strung together.

Some viewers may feel as though, instead of watching a feature, they're paging through a book of rough sketches by a deranged Disney alumnus.

Plympton fails to develop compelling personalities for any of his characters.

When Plympton isn't indulging his manias, the film just sort of nods off, and nothing much happens -- either visually or storywise -- for what seems like ages.