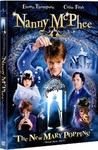 Starring:

Angela Lansbury

,

Colin Firth

,

Emma Thompson

Summary:

In this dark and witty fable, Emma Thompson portrays a person of unsettling appearance and magical powers who enters the household of the recently widowed Mr. Brown (Firth) and attempts to tame his seven ill-behaved children. (Universal Pictures)
Director:

Kirk Jones

Genre(s):

Fantasy

,

Comedy

,

Family

Rating:

PG

Runtime:

97 min
What actors! The great Miriam Margolyes has a wonderful cameo as a scullery maid, and Colin Firth manfully endures a face full of frosting. And then there's Angela Lansbury, playing her first movie role in 20 years as the villainous Aunt Adelaide.

Thompson adapted the screenplay from Christianna Brand's "Nurse Matilda" books, and she and director Kirk Jones balance the slapstick and levity with darker enchantments. At its most enjoyable the film feels like Roald Dahl's idea of "Mary Poppins."

The film's look, fashioned by production designer Michael Howells, is noteworthy for its vibrant colors and fantastical feel.

There's magic afoot, even if the movie is more serviceable than magical.

Colorful, noisy and brimming with special effects, the picture may please young audiences simply looking for loud action, but its corny storyline and brittle lack of warmth may discourage both parents and children.

I hazard the guess that quite small children--pre-science fiction, pre-heroics--will enjoy its fairy-tale quality.

There's nothing offhand or spontaneous-feeling about Nanny McPhee; it's a highly mechanical piece of work, and its potentially delightful details are wasted.
Very entertaining. Everyone in our party enjoyed this movie. Some great talent and clever scenes. We are looking forward to adding this to

Very entertaining. Everyone in our party enjoyed this movie. Some great talent and clever scenes. We are looking forward to adding this to our DVD collection.

…

Expand

The whole movie surprised me. After seeing the ad, I expected a goofy disaster, but instead recieved a glorious, moving "remake" of Mary Poppins.

Few films make me smile. "Nanny McPhee" did it the right way, providing gleefully entertaining characters with an enjoyably silly story. Still

Few films make me smile. "Nanny McPhee" did it the right way, providing gleefully entertaining characters with an enjoyably silly story. Still haven't seen the sequel -- don't know why they made it one -- but this picture will remain as one of my all-time favorite movies, thanks to Emma Thompson's likable performance and joyful character moments.

Final Score: 8/10.

…

Expand

It is a cute little story about a houseful of horrid kids and an inattentive widower who, with a little help from a stern Nanny (and a little

It is a cute little story about a houseful of horrid kids and an inattentive widower who, with a little help from a stern Nanny (and a little magic), are turned into a happy home. The family's progress can be seen in the Nanny's face!

…

Expand

The Story Line Of The Movie Is Average, Because Of The Scenes Where McPhee Makes The Animal's Turn MAGICA!!! :)
As For The Child Actors.....The Story Line Of The Movie Is Average, Because Of The Scenes Where McPhee Makes The Animal's Turn MAGICA!!! :)
As For The Child Actors..... Sometimes They Seem To Ruin The Movie For Any One Watching Nanny McPhee... This Film Is Cute For Younger Children Because Of The "Magic" And The "Fun" Thrown Out In The Movie...
The Special Effect's Are So-So Because When The Animals Are Dancing It Looks Fake..
This Was Not The Best Or The Worst Movie Of 2006...

…

Expand

This movie was pretty predictable, and didn't have the oomph you could tell it was supposed to have. An enjoyable experiance though,

This movie was pretty predictable, and didn't have the oomph you could tell it was supposed to have. An enjoyable experiance though, with colors and costumes to keep you interested.

…

Expand

Emma Thompson plays a dumb nanny who does gross things to children and she's a old school nanny . it fails to be myfavorite film . trust me

Emma Thompson plays a dumb nanny who does gross things to children and she's a old school nanny . it fails to be myfavorite film . trust me it sucks for emma thompson .

…

Expand