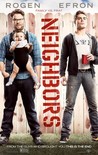 Please enter your birth date to continue:
You are not allowed to view this material at this time.
What makes Neighbors exceptional, rather than merely great, is its successful attempt to reinvent the studio comedy.

There's a subtle wisdom to this screenplay that complements its exceedingly bad taste, small lessons among the laughs.

You'll laugh if you're young, you'll laugh if you're old.

Efron makes you believe he's capable of anything. Neighbors is rude, brazen and merrily offensive, and the movie mines the homoerotic undertones of fraternities to fine (if lowbrow) comic effect. But Efron, of all people, gives the film a curious edge.

While it's occasionally distasteful, it's an engaging hangout film from beginning to end, thanks to its game performances and smart direction.

The fun is supposed to build from the elaborate plots the marrieds and the bros engage in to foil each other. Only, it doesn't.

Neighbors stakes its claim in suburban-property cliches. Given the dull, stale results, maybe the end of the world was a better fit.
Great laugh-out-loud comedy. Laughs all the way through. All of the cast are stellar. Rogen and Efron have great chemistry and the supporting

Great laugh-out-loud comedy. Laughs all the way through. All of the cast are stellar. Rogen and Efron have great chemistry and the supporting cast of Dave Franco, Rose Byrne and newcomer Jerrod Carmichael really impress and help to offer more great laughs. 10/10

…

Expand

Perhaps the funniest film of 2014 and probably the most anticipated film of the year. Seth Rogen are great. You find yourself cheering for

Perhaps the funniest film of 2014 and probably the most anticipated film of the year. Seth Rogen are great. You find yourself cheering for either one of their side as you acquire more and more information. Its hard to believe that this is a film that has never been done before. Its so original.

…

Expand

This movie reminds me a lot of other Seth Rogen films like "This Is The End" Or "Pineapple Express" but without James Franco. Instead of him ,

This movie reminds me a lot of other Seth Rogen films like "This Is The End" Or "Pineapple Express" but without James Franco. Instead of him , you get his little brother. Witch isn't that bad, The acting is what you expect from a late night comedy that's geared towards people who probably are not sober well watching the film. But the part that you care about in a comedy movie the most is great. The jokes, Offensive, Original and very adult.
Definitely get some friends together and watch this as a late night movie.

…

Expand

Neighbors is a wet dream for party-movie lovers, and some college kids who want to see a movie on a Saturday night. While it manages to be

Neighbors is a wet dream for party-movie lovers, and some college kids who want to see a movie on a Saturday night. While it manages to be well-scripted, well-shot, and even well-acted, it takes some of the jokes way too far, and beings to get repulsive by the middle. Some will embrace the repulsiveness with open arms, while others will find it offensive. I rather liked it for the most part, even though it went a bit too over the top sometimes and didn't know went to move on to the next scene.

…

Expand

Outrageous, crude and way over the top, Neighbors provides some very funny material but even at a short running time, the same jokes and

Outrageous, crude and way over the top, Neighbors provides some very funny material but even at a short running time, the same jokes and endless party scenes begin to become exhausting.

…

Expand

The good news is that this movie was at least mildly entertaining. It gave me a few laughs here and there, and I thought the acting was pretty

The good news is that this movie was at least mildly entertaining. It gave me a few laughs here and there, and I thought the acting was pretty good. Unfortunately, I really just couldn't get over how illogical the plot was. The back and forth antics between the couple and the frat was ridiculous and initially funny, but as the movie progressed, it got to the point where I just wasn't buying it. Also, I'm really sick of Zac Efron playing the same damn character in every movie. I'm beginning to think he only gets these roles because he's attractive.

…

Expand

Total garbage movie - from beginning to end. Don't even see it for free. Writer, director, and producer need to go back to school to learn

Total garbage movie - from beginning to end. Don't even see it for free. Writer, director, and producer need to go back to school to learn something else.

…

Expand