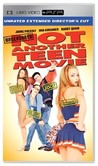 Starring:

Chyler Leigh

,

Jaime Pressly

Summary:

This irreverent comedy shows no mercy as it skewers the conventions and cliches of the genre you hate to love. (Columbia Pictures)
Director:

Joel Gallen

Genre(s):

Comedy

Rating:

TV-PG

Runtime:

89 min
A big, fat, juicy spitball lobbed, with mostly dead-on aim, at the teen-smarm clichés that have accumulated like so much earwax over the last three years.

A happy, nasty and frequently hilarious assault on 20 years' worth of youth pictures.

It is obvious that the creative forces did not take the film to seriously and if you do not, you just might find yourself laughing along.

Toomuch of the humor in Not Another Teen Movie is either lame (the school in the movie is called "John Hughes High") or lamely disgusting.

By the time a member of teen-movie royalty makes a cameo in the film's finale, Not Another Teen Movie has long exhausted any hope of succeeding. Instead it becomes, well, just another teen movie.

That's not to say there aren't funny moments here. There are. Two, maybe three of them. But unless you're a hearty 14-year-old -- who of course is not supposed to be seeing this R-rated movie -- it's hardly worth fishing them out of the potty humor and repulsive sex talk.

If there is a Hell, Not Another Teen Movie will be playing for all eternity on every screen there.
I've only seen a handful of the movies that this parodies, yet still find this one of the most funny and repayable stupid comedies out there.

I've only seen a handful of the movies that this parodies, yet still find this one of the most funny and repayable stupid comedies out there. No American Pie morality, no underlying sub-plots, just pure stupid jokes, crammed in T&A and the odd offensive gag in there to add the slight edge here (although that is very underplayed). I absolutely love this film and the way it drags cheesy yank rom-coms down to the level of us every-day Joe's. A classic.

…

Collapse

This is a good parody/comedy movie,The acting is not convincing (that's the point) and what is happening in the movie is barely impossible but

This is a good parody/comedy movie,The acting is not convincing (that's the point) and what is happening in the movie is barely impossible but it's just a parody and it is suppose to be pretty bad and dumb.

…

Expand

Going into this movie you have to learn not to take it too seriously. It's a parody of teen movies and is hilarious at parts but overall it

Going into this movie you have to learn not to take it too seriously. It's a parody of teen movies and is hilarious at parts but overall it still felt like just any other teen movie. I will give it a 58.5 out of 100.

…

Expand

The movie is surprisingly funny in the first half but begins to drift and a little after awhile. In the end, with a film like this, I was

The movie is surprisingly funny in the first half but begins to drift and a little after awhile. In the end, with a film like this, I was shocked how it wasn't all that bad.

…

Expand

Though it tries to make you think that it's spoofing teen comedies, the movie has unfortunatley become the very thing it sought to destroy.

It advertise itself like a spoof of the modern spoof movie like the Suckerberg movies, yet they seem to understand the spoof genre as much as

It advertise itself like a spoof of the modern spoof movie like the Suckerberg movies, yet they seem to understand the spoof genre as much as all the other spoofs. Very unfunny and horribly written.

…

Expand