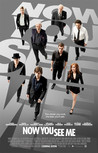 Director:

Louis Leterrier

Genre(s):

Mystery

,

Thriller

,

Crime

Rating:

PG-13

Runtime:

115 min
Please enter your birth date to continue:
You are not allowed to view this material at this time.
Now You See Me can't quite claim to be the ideal crime drama – that would be "The Usual Suspects," which justly won an Oscar for its script – but it's only one level down.

At times, Now You See Me suggests Christopher Nolan's "The Prestige" made with a throwaway wink.

The problem is that, in focusing on what makes a good caper, director Louis Leterrier forgot about what makes a good movie: character development, carefully constructed tension and believable plot points.

A superficially diverting but substance-free concoction, a would-be thriller as evanescent as a magic trick and one that develops no suspense or rooting interest because the characters possess all the substance of invisible ink.

There is nothing magical about seeing one's umpteenth car chase. Mark Ruffalo plays the weirdly scruffy FBI agent on the case, while Morgan Freeman, in super-slow mode, plays a famous magic debunker. He'd make the ideal critic for this movie.

It seems that the director, who also made "The Incredible Hulk" and "Clash of the Titans," will do anything to distract us from the emptiness to which he has devoted himself. [10 & 17 June 2013, p.110]

This is a slick con, all flash and no substance. Now You See Me seems awfully sure of itself, with self-important, intrusive music, sweeping tracking shots and actors chewing up the scenery.
We thoroughly enjoyed this movie...fun entertainment with a surprising twist at the very end. Not a lot of magic in the film, but enough to

We thoroughly enjoyed this movie...fun entertainment with a surprising twist at the very end. Not a lot of magic in the film, but enough to keep you watching for the next trick. I do not like either Harrelson or Freeman since both seem so arrogant, but the cast just *worked* together. Certainly a far better movie than a lot I have seen lately, but I go to be lost in the magic of movies, not for any deep psychological studies or great social commentary.

…

Expand

one of the best this year,the plot will surprise you.you will not be able to take your eyes off.too bad Man of steel steals the light from

one of the best this year,the plot will surprise you.you will not be able to take your eyes off.too bad Man of steel steals the light from this movie.if you liked The Prestige ,then you will love this one

…

Expand

I thought it was very well acted and very intertaining. Had a few twists and turns and just great fun.It was great the way they explained how

I thought it was very well acted and very intertaining. Had a few twists and turns and just great fun.It was great the way they explained how all the tricks were pulled off.

…

Expand

A fairly entertaining movie. It shows even more why Eisenberg can completely impress the world with his acting chops. But the cleverness of

A fairly entertaining movie. It shows even more why Eisenberg can completely impress the world with his acting chops. But the cleverness of the script is impressive. the only negative is that it is way too long and drags on to much

…

Expand

Now You See Me is a very entertaining and fun movie to watch, with a pretty good twist at the end (no spoilers), but the movie fails to

Now You See Me is a very entertaining and fun movie to watch, with a pretty good twist at the end (no spoilers), but the movie fails to convince us of its premise.

…

Expand

When I went to see this, my expectations were pretty high. A little too high though. Other than the fact that the movie had a few moments that

When I went to see this, my expectations were pretty high. A little too high though. Other than the fact that the movie had a few moments that bedazzled and amazed me, I found it to be cheesy and at times boring. In my opinion, this film was worth the price of admission but it could have been worth way more.

…

Expand

One of the worst movies I have seen this year, two hours of my life that I will never get back. The entire cast just did this film for a

One of the worst movies I have seen this year, two hours of my life that I will never get back. The entire cast just did this film for a paycheck. The real magic trick was taking my money.

…

Expand