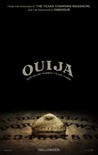 Director:

Stiles White

Genre(s):

Action

,

Adventure

,

Thriller

,

Horror

Rating:

PG-13

Runtime:

89 min
Please enter your birth date to continue:
You are not allowed to view this material at this time.
In the current economy, Monopoly makes a more appropriate board game upon which to base a horror movie, but for what it is, Ouija is better than expected.

Ouija is confident, meat-and-potatoes horror, and that's a lot harder to pull off than it sounds.

Given its double burden of being both a toy adaptation and a bloodless kiddie horror show, Ouija winds up being more fun that you might think, even if it's the sort of film you can't really take seriously for a second.

The most pressing issue with Ouija is that Stiles and Snowden cannot seem to write a single interesting line of dialogue. They volley between conversational banalities and whatever exposition might be needed to get the film to its next scary setpiece.

It is harmless, frighty fun for teenage audiences, but adults will leave theatres with their bejeebers intact.

The ghost scenario that this boring, CW-ready, "Scooby-Doo" gang uncovers isn't nearly as shocking as the blasé attitude they have toward friends dying off.

Hasbro's long-lasting occult board game gets its own starring role in a film that makes those other recent Hasbro plaything adaptations – namely "Transformers" and "G.I. Joe" – look like triumphs of subtly engineered cinematic magic.
Its good movie with a good script. Thumbs up for all the young actors. You did an amazing job guys. All the scenes was captured perfectly.

Its good movie with a good script. Thumbs up for all the young actors. You did an amazing job guys. All the scenes was captured perfectly. I'd love to watch it again and again :)

…

Expand

Now I'm not the biggest fan of scary movies but I rather enjoyed this film. There was not a lot of gore, it was mainly things popping out of

Now I'm not the biggest fan of scary movies but I rather enjoyed this film. There was not a lot of gore, it was mainly things popping out of no where scares which I enjoyed. This film is better then the critics say.

…

Expand

The acting is not that bad and the movie had great ideas but he just falls in the clichés.The characters are all stereotypical and the movie

The acting is not that bad and the movie had great ideas but he just falls in the clichés.The characters are all stereotypical and the movie is basic.But,somehow,the movie kept me entertain.

…

Expand

"Ouija" 10 Scale Rating: 3.5 (Terrible) ...

The Good: The antagonist of the film had a couple of decent moments. Olivia Cooke was solid,"Ouija" 10 Scale Rating: 3.5 (Terrible) ...

The Good: The antagonist of the film had a couple of decent moments. Olivia Cooke was solid, despite having very little to work with.

The Bad: As with most modern horror films, it was more "jumpy" than scary. On top of that, it relies on the same cliches that litter every other horror film for the last decade and brings nothing new to the genre whatsoever. Now, I don't expect award-winning performances or complex characterization in a horror flick, but I do expect an attempt at mediocrity (or better, if I can get it) ... there was none of that in this film. A great story and script can overcome some very poor performances, but that was also missing. A half-hearted attempt all around.

…

Expand

If not the worst horror movie I've ever seen,it's probably in the top twenty for the worst movies I've EVER seen. Bland, boring, and

If not the worst horror movie I've ever seen,it's probably in the top twenty for the worst movies I've EVER seen. Bland, boring, and uninteresting, this movie is riddled with poor performances and non-scary, cliche jumpscares.

…

Expand

I wouldn't call this the worst horror movie I've ever seen, but it's one of the worst of the year. There are countless jump scares, none of

I wouldn't call this the worst horror movie I've ever seen, but it's one of the worst of the year. There are countless jump scares, none of which were original or effective, and there was no suspense. The plot was also pretty predictable. The final act especially seemed very rushed and convoluted. This is the kind of movie that should only be watched at slumber parties.

…

Expand

I AM SICK AND TIRED OF JUMPSCARES!!!!!!. Jumpscares are cheap and lazy. If you like loud stupid noises that make you jump and are ridiculously

I AM SICK AND TIRED OF JUMPSCARES!!!!!!. Jumpscares are cheap and lazy. If you like loud stupid noises that make you jump and are ridiculously stupid. You will love this movie but for most of us its trash. Wait im not even done the acting in this mf is so damn bad, the story is bad, the makeup looks so fake, and boring characters that act dumb bc its a horror movie so everyone has to be stupid. One of the worst movies ever made.

…

Expand