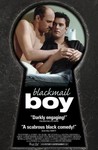 Summary:

A small Greek town is the setting for a delirious black comedy combining early Almodovar with "Dynasty" to achieve a twisted tale of dubious morality, infidelity, and murder. (Picture This! Entertainment)
At the center of the movie, Tsimitselis makes for a disappointing blank, a pretty poster boy who leaves a long trail of emotional wreckage in his wake.

It does have the feel of farce at times, but much of the time it just seems determined to shock.

Blackmail Boy reaches for tragedy but settles for soap opera.

There are moments of amusing melodrama, but for the most part, the action is too preposterous to take seriously, and too serious to be very much fun.

Curiously, Blackmail Boy's alternate title is "Oxygen"--and by film's end, you'll be gasping for it.