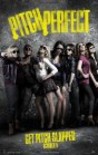 Starring:

Anna Camp

,

Anna Kendrick

,

Brittany Snow

,

Rebel Wilson

Summary:

Beca is that girl who'd rather listen to what's coming out of her headphones than what's coming out of you. Arriving at her new college, she finds herself not right for any clique but somehow is muscled into one that she never would have picked on her own: alongside mean girls, sweet girls

Beca is that girl who'd rather listen to what's coming out of her headphones than what's coming out of you. Arriving at her new college, she finds herself not right for any clique but somehow is muscled into one that she never would have picked on her own: alongside mean girls, sweet girls and weird girls whose only thing in common is how good they sound when they sing together. When Beca takes this acoustic singing group out of their world of traditional arrangements and perfect harmonies into all-new mash-ups, they fight to climb their way to the top of the cutthroat world of college a cappella. This could wind up either the coolest thing they'll ever do or the most insane, and it will probably be a little of both. (Universal Pictures)

…

Expand
Director:

Jason Moore

Genre(s):

Comedy

,

Romance

,

Music

Rating:

PG-13

Runtime:

112 min
Please enter your birth date to continue:
You are not allowed to view this material at this time.
A comedy about an all-female collegiate a cappella group. And to paraphrase one of the characters in the movie, it's A-Ca-Awesome.

The soundtrack's ironic bent might dissuade older viewers (Simple Minds are venerated), but they'd be missing out on one of the best musical comedies since A Mighty Wind. The song's the same, but Pitch Perfect is a great cover version.

The campus comedy Pitch Perfect harmonizes high-end performance with low-brow spoofery. It's like a National Lampoon parody where the targets write the jokes.

As spirited and irresistible as the college a cappella craze it celebrates, Pitch Perfect is a cheeky delight.

The college singing-group comedy Pitch Perfect isn't dumb, but Kendrick's participation implies that it might also be smart. And sometimes it is.

The music, of course, is the engine that makes the whole exercise go, tapping into a genre-spanning collection of tunes, but every bit as important to the film's success is its unexpected humor, which flirts with raunchy but stops juuuust short of crossing any lines that would have earned it an R rating.

Only occasionally funny and not at all illuminating about the rich world of a cappella singing.
So funny. Rebel Wilson will become famous because of this film. Highly recommended. My wife dragged me to this one, but I am glad that I

So funny. Rebel Wilson will become famous because of this film. Highly recommended. My wife dragged me to this one, but I am glad that I went. 10/10

…

Expand

This film is hilarious I have to agree with EFYevan, Rebel Wilson is great and stills the show and we will be seeing a lot more of her in

This film is hilarious I have to agree with EFYevan, Rebel Wilson is great and stills the show and we will be seeing a lot more of her in the future also some great tunes,but most of all very funny the whole cinema was laughing all the way through the film well worth a watch.

…

Expand

Overall, I thought Pitch Perfect was a fantastic movie! It definitely has a cheesy plot line, but highly entertaining. I was really impressed

Overall, I thought Pitch Perfect was a fantastic movie! It definitely has a cheesy plot line, but highly entertaining. I was really impressed with the vocals throughout the entire movie. Rebel Wilson's charter, Fat Amy, was hilarious and added great humor to the film. Anna Kendrick did an amazing job as well. I highly recommend this movie if you are in the mood for a funny, light-hearted, romantic chick flick!

…

Expand

It's a pretty standard formula film but the performances of Kendrick, Snow and Camp are exellent and Elizabeth Banks and John Michael Higgins

It's a pretty standard formula film but the performances of Kendrick, Snow and Camp are exellent and Elizabeth Banks and John Michael Higgins provide some great sarcastic humor in cameo parts. Not oscar material or nothing you would put on your all-time favorite movie list, but nice porpcorn entertainment.

…

Expand

As the sequel is already out .Now it is the time I review the original Pitch Perfect.
The first time I heard Pitch Perfect is going to beAs the sequel is already out .Now it is the time I review the original Pitch Perfect.
The first time I heard Pitch Perfect is going to be released and the plot is all about an A Capella,I was skeptic about it and curious if the movie would work. Surprisingly the movie is good.The characters are funny and has a great chemistry.I was amazed it is good.The sequel is kind a bit the same and disappointing,the first film is the best.

…

Expand

PItch Perfect is hilarious at times, and the music is excellent throughout of course, but it's predictable and relies on some lazy tropes of

PItch Perfect is hilarious at times, and the music is excellent throughout of course, but it's predictable and relies on some lazy tropes of humour. The girl-gross-out-scene ends up being more gross than funny (unlike the gross-out scene in Bridesmaids, which PItch Perfect is presumably building on). Anna Kendrick is amazing of course, and very talented, but the other lead voices aren't always full enough to be compelling. Plus every actor and actress in the movie is confusingly and distractingly about ten years older than the plot requires--Anna Kendrick just can't pass as an 18-year-old freshman. Still, the good music and jokes keep it together and make it an entertaining movie, if not a stimulating one.

…

Expand

WHAT I LIKED: Rebel Wilson is hilarious - every amusing comment and remark she makes causes laughs and giggles. It almost feels as if she's

WHAT I LIKED: Rebel Wilson is hilarious - every amusing comment and remark she makes causes laughs and giggles. It almost feels as if she's taking the mickey out of the film itself! Plus some of the musical arrangements are fairly good.
WHAT I DIDN'T LIKE: Everything else... This has to be one of the most cringey and cliched, plot-less and dull films out there. Even a lack of any serious sub-message or convincing characterisation... really?
VERDICT: With nothing to enjoy unless you're five, 'Pitch Perfect' misses the mark. If it wasn't for the hilarious fat amy - it wouldn't even be funny.

…

Expand