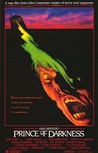 Starring:

Donald Pleasence

,

Lisa Blount

Summary:

A research team finds a mysterious cylinder in a deserted church. If opened, it could mean the end of the world.
Please enter your birth date to continue:
You are not allowed to view this material at this time.
Those who don't go for horror films, period, won't go for this, but those who do will find this one of the more intelligent, better produced outings of late, with a good, continuing stream of sarcastic humor. [30 Oct 1987, p. E13]

Prince of Darkness is a real tour de force, and a welcome return.

Carpenter returns to his roots, which is to say he's gouging eyes and summoning demons. He's doing it in a wonderfully rough-hewn, low-budget style that fondly recalls Halloween, the granddaddy of slasher movies. [24 Oct 1987, p.1D]

John Carpenter's Prince of Darkness gets off to an intriguing start. But then the movie loses its way.

A surprisingly cheesy horror film to come from Mr. Carpenter (''Halloween,'' ''Escape From New York,'' among others), a director whose work is usually far more efficient and inventive.

Carpenter spends so much time turning the screws on the next scare that he completely forsakes his actors, who are already stranded with a shoddy script.

Carpenter being Carpenter, he vacillates between overexplanation -- his are the most verbose horror films -- and cheap shocks.
It's a shame Carpenter the director wasn't as spot-on with technique and suspense as he was with Halloween and The Thing. Some really

It's a shame Carpenter the director wasn't as spot-on with technique and suspense as he was with Halloween and The Thing. Some really brilliant ideas, like the shared dream, but a truckload too much symbolism and imagery--some subtlety here would have been nice. Good scoring by Carpenter, fine work by Pleasance and a nice cameo by Alice Cooper (in the soundtrack too). If it had perhaps another star or two, could be considered a classic...

…

Expand