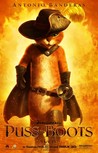 Starring:

Antonio Banderas

,

Salma Hayek

,

Zach Galifianakis

Summary:

Puss In Boots - one of the most beloved characters of the "Shrek" universe - tells the hilarious and courageous (daring, bold, brave) tale of Puss's early adventures as he teams with mastermind Humpty Dumpty and the street-savvy Kitty to steal the famed goose that lays the Golden Eggs.

Puss In Boots - one of the most beloved characters of the "Shrek" universe - tells the hilarious and courageous (daring, bold, brave) tale of Puss's early adventures as he teams with mastermind Humpty Dumpty and the street-savvy Kitty to steal the famed goose that lays the Golden Eggs. (Dreamworks)


…

Collapse
Director:

Chris Miller

Genre(s):

Adventure

,

Fantasy

,

Comedy

,

Animation

Rating:

PG

Runtime:

90 min
Please enter your birth date to continue:
You are not allowed to view this material at this time.
Thanks to Banderas and his Corinthian leather purr and writers who know how to use it, "Puss" is the best animated film of 2011.

A perfectly diverting romp that happens to showcase some of the best 3D work yet from a mainstream animated feature. Colorful, clever enough, free of cloying showbiz in-jokes, action-packed without being ridiculous about it and even well choreographed.

For a kids' movie, the humor, at times, strays a bit too far into grown-up territory.

Puss has his charms, but he is not as memorable a character as Shrek or Shrek's mouthy sidekick, Donkey. Consequently the story, which involves a quest for magic beans and golden eggs, feels improvised and diffuse.

The seductive interplay of Banderas and Hayek, the barely recognizable vocal contributions of Galifianakis, and the Southern backwoods speech of Thornton and Sedaris all keep us attuned to the events on the screen.

As a sheer visual experience, Puss In Boots makes a great theme-park ride, a thrill-a-minute feast for the eyes and the semicircular canals.
All I Can Is "THE BEST MOVIE OF 2011 & CD ANIMATION" ITS FULL OF LAUGHS AND CRYS....
ITS AMAZING TRY TO SEE IT IN 3D!

Besides being an occasional pleaser for non-fans, "Puss in Boots" will definitely entertain followers of the franchise, with the backstory of

Besides being an occasional pleaser for non-fans, "Puss in Boots" will definitely entertain followers of the franchise, with the backstory of the titular character being told in a silly, and sometimes breathtaking, adventure. The film retains an annoyingly static amount of interest, sometimes plummeting, and suffers a lack of taste and dignity at other times. Unexpectedly though, there is a strong point in the writing, where there are scenes in the story that give hints to what will happen next without making the predictable boring. The action, travel and fight scenes are a definite treat; the film features top-notch animation of scenery. At the very least, seeing the movie will satisfy people's want to know Puss's story, and that enough makes it watchable and gives the watcher something to remember it by, but of course no one could forget Antonio Banderas's majestic portrayal of Puss. Final score: 78/100

…

Expand

Puss in Boots is very good spin-off and I enjoy this movie with great expectations to see it. First of, the story takes place were Puss

Puss in Boots is very good spin-off and I enjoy this movie with great expectations to see it. First of, the story takes place were Puss becomes a legendary cat before he meets Shrek until later. Puss joins Humptey Dumptey and Kitty Softpaws to find the magic beans from the evil Jack and Jill and they must work each other as a team to get the golden eggs at the top of the clouds more like from the fairy tale of "Jack and the Beanstalk." Next, we meet the characters from the movie. Antonio Banderas returns the voice as "Puss in Boots", Salma Hayek voice as "Kitty Softpaws", Zack Galifianakis voice as "Humptey Alexander Dumptey", and of course "Jack & Jill" was voice by Billy Bob Thornton and Amy Sedaris. Those characters are fun to watch and they did pretty well such as Banderas and Hayek since they team up in "Desperado." Most importantly, the animation was wonderful and I saw this movie once again in 3D. It's very beautiful and I can see the background that the 3D could take you anywhere and its done well since the animation brings 3D to see. In my opinion, this movie was fun, swashbuckling, and funny at the same time and this cat was awesome!

…

Expand

A few jokes meant for adults. Very stylish with the Spanish theme. Loved the way Zach Galifianakis portrayed Humptey. This is better for me

A few jokes meant for adults. Very stylish with the Spanish theme. Loved the way Zach Galifianakis portrayed Humptey. This is better for me than Shrek 2.

…

Expand

Puss in Boots, as a spin-off from Shrek, contains what he got from his Shrek days. Although the story is somehow familiar at times, he's a bit

Puss in Boots, as a spin-off from Shrek, contains what he got from his Shrek days. Although the story is somehow familiar at times, he's a bit adventurous with his adventures in this movie.

…

Expand

Mediocre cartoon. Too much adult humor. Too many things were just plain ridiculous. There are a lot of better kids movies. I think cars 2 was

Mediocre cartoon. Too much adult humor. Too many things were just plain ridiculous. There are a lot of better kids movies. I think cars 2 was better than this movie and I disliked cars 2 as well. If you want to see Puss n Boots in a movie, just go watch Shrek, Shrek was good.

…

Expand