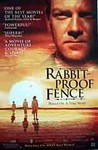 Starring:

Everlyn Sampi, Kenneth Branagh, Tianna Sansbury

Summary:

The true story of Molly Craig, a young black Australian girl who leads her younger sister and cousin in an escape from an internment camp, set up as a part of a government policy to train Aboriginal children as domestic workers and integrate them into white society. (Miramax)
Director:

Phillip Noyce

Genre(s):

Adventure, Drama, History

Rating:

TV-PG

Runtime:

94 min
A breathtaking story of defiance and triumph that has to be considered one of the year's most sublime films.

Noyce wants us to feel the joy of the homecoming, but he's honest enough to show, in a coda that tells what happened to the girls after their break for home, how Rabbit Proof Fence finally must be more a tale of courage than of victory.

Thrilling, heart-wrenching tale of the real-life incredible journey.

Kenneth Branagh overplays his portrayal of Neville, but most of the other characters are skillfully acted by a solid cast, including the great Aborigine actor David Gulpilil as the tracker. In all, this is a watchable movie that's not quite the memorable experience it might have been.