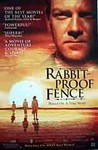 Starring:

Everlyn Sampi

,

Kenneth Branagh

,

Tianna Sansbury

Summary:

The true story of Molly Craig, a young black Australian girl who leads her younger sister and cousin in an escape from an internment camp, set up as a part of a government policy to train Aboriginal children as domestic workers and integrate them into white society. (Miramax)
Director:

Phillip Noyce

Genre(s):

Adventure

,

Drama

,

History

Rating:

TV-PG

Runtime:

94 min
A breathtaking story of defiance and triumph that has to be considered one of the year's most sublime films.

This is a chase movie (Simon Legree after three Little Evas) across parched outback terrain, captured with rapturous authenticity by cinematographer Christopher Doyle.

Searing dramatization of a story of remarkable courage, stamina and spirit.

It succeeds emotionally in the cause of what seems to be its primary aim, to advance an attitudinal change in Australians not normally sympathetic to the aboriginal cause.

Based on a memoir by a grown daughter of the eldest girl and rarely digressing from the journey itself, the movie is a dusty, calloused, primal Odyssey, as forceful and single-minded as a bullet train.

Its adult themes of familial separation and societal betrayal are head and shoulders above much of the director's previous popcorn work -– more hurt, more heart, more unassailable hope.

Achieves the impossible by taking one of the most compelling and harrowing stories imaginable and channeling it into one of the most ordinary movies of the year.
Haunting, heart-breaking and powerful. Beautifully uncovers the ugliest and most shameful part of Australian history. This is an absolute

Haunting, heart-breaking and powerful. Beautifully uncovers the ugliest and most shameful part of Australian history. This is an absolute must-see, even for non-Aussies.

…

Expand