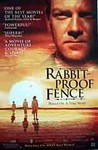 Starring:

Everlyn Sampi

,

Kenneth Branagh

,

Tianna Sansbury

Summary:

The true story of Molly Craig, a young black Australian girl who leads her younger sister and cousin in an escape from an internment camp, set up as a part of a government policy to train Aboriginal children as domestic workers and integrate them into white society. (Miramax)
Director:

Phillip Noyce

Genre(s):

Adventure

,

Drama

,

History

Rating:

TV-PG

Runtime:

94 min
The result is a film that outrages and fills the viewer with poetry that's at once epic and intimate, scandalizing and life-affirming -- a real work of art.

A breathtaking story of defiance and triumph that has to be considered one of the year's most sublime films.

A movie of minimalist moments (Molly's tiniest gestures speak volumes) and lovely, almost holy tableaux.

Noyce has treated this story almost like a page of holy writ. If he has erred, it is in the very awe of his approach.

It succeeds emotionally in the cause of what seems to be its primary aim, to advance an attitudinal change in Australians not normally sympathetic to the aboriginal cause.

Its adult themes of familial separation and societal betrayal are head and shoulders above much of the director's previous popcorn work -– more hurt, more heart, more unassailable hope.

Kenneth Branagh overplays his portrayal of Neville, but most of the other characters are skillfully acted by a solid cast, including the great Aborigine actor David Gulpilil as the tracker. In all, this is a watchable movie that's not quite the memorable experience it might have been.
Haunting, heart-breaking and powerful. Beautifully uncovers the ugliest and most shameful part of Australian history. This is an absolute

Haunting, heart-breaking and powerful. Beautifully uncovers the ugliest and most shameful part of Australian history. This is an absolute must-see, even for non-Aussies.

…

Expand

A fairly satisfactory display of the dilemmas faced by aboriginal people and what the outcomes were. Phillip Noyce has expressed the struggles

A fairly satisfactory display of the dilemmas faced by aboriginal people and what the outcomes were. Phillip Noyce has expressed the struggles of aboriginal rights to the audience and has definitely displayed the severity of it in 'Rabbit Proof Fence'. The family struggles of the stolen generation were shown very well, the performance of the actors was average. However, the characters were displayed very well.

…

Expand