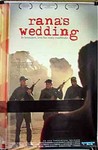 Summary:

Palestinian director Hany Abu-Assad's timely feature explores love among the ruins of an occupied territory and is the winner of the Human Rights Watch International Film Festival's 2003 Nestor Almendros Prize for courage in filmmaking. (Arab Film Distribution)
Director:

Hany Abu-Assad

Genre(s):

Drama

,

Comedy

Rating:

Unrated

Runtime:

90 min
Among the finest films made in the Middle East. This small, subtle gem offers a vivid portrait of life in the Israeli-occupied Palestinian territories, presenting its message with an intelligence and vibrancy that celebrates the human spirit in an environment where humanity is routinely crushed and assaulted.

The movie's wistful tone leavened with breaks into farce recalls Elia Suleiman's superbly controlled "Chronicle of a Disappearance."

Though shot from the Palestinian P.O.V., the Dutch/Palestinian Film Foundation co-production is remarkably balanced, offering a convinced message of hope for the future.

An invitation to see something a little less pretty, and potentially more enduring.

Both wry and sobering, if such a thing is possible. In Jerusalem, apparently, it's inevitable.

The film effectively conveys the fears and frustrations of Palestinians struggling in a country that treats them as the enemy.

While the film, directed by Hany Abu-Assad, provides a vivid portrait of the landscape, its dramatic aspects are less impressive, with the contrived plot and paper-thin characterizations basically serving to provide a framework for its impressionistic portrait.