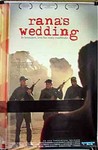 Summary:

Palestinian director Hany Abu-Assad's timely feature explores love among the ruins of an occupied territory and is the winner of the Human Rights Watch International Film Festival's 2003 Nestor Almendros Prize for courage in filmmaking. (Arab Film Distribution)

Director:

Hany Abu-Assad

Genre(s):

Drama

,

Comedy

Rating:

Unrated

Runtime:

90 min
A bittersweet film that tells the story of Palestinian life as eloquently as anything ever done.

Though shot from the Palestinian P.O.V., the Dutch/Palestinian Film Foundation co-production is remarkably balanced, offering a convinced message of hope for the future.

The movie's wistful tone leavened with breaks into farce recalls Elia Suleiman's superbly controlled "Chronicle of a Disappearance."

An invitation to see something a little less pretty, and potentially more enduring.

The film effectively conveys the fears and frustrations of Palestinians struggling in a country that treats them as the enemy.

Clara Khoury delivers a performance that is luminous, fierce and intensely focused as the title character of Rana's Wedding.

It's tempting to read Abu-Assad's view of his ostentatiously wealthy heroine and her debutante narcissism as satirical of a certain cross-section of modernized Palestinians amid the occupation, but the placid, earnest way her dilemma takes up emotional space in his film suggests half-bakery.