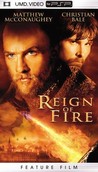 Starring:

Christian Bale

,

Matthew McConaughey

Summary:

An exciting tale of adventure and survival that fuses a medieval past with a post-apocalyptic future. (Buena Vista Pictures Entertainment)
Director:

Rob Bowman

Genre(s):

Action

,

Sci-Fi

,

Thriller

,

Fantasy

Rating:

PG-13

Runtime:

101 min
The fact that Reign of Fire does what it sets out to do is a cause for celebration amongst those who like special effects-laden action movies featuring fire-breathing monsters and mayhem.

Loads of fun. It has a jamming B-picture buzz -- the kind of swift filmmaking and high spirits that have been missing from movies for a while.

It's a decent, fast-moving and visually powerful summer action romp for the teenage demographic-the dragons are deliciously evil critters, with a nice retro identity.

Like a dog walking on its hind legs across a freshly waxed floor -- awkward, slow, deliberate, seeking approval -- the action thriller Reign of Fire gets from start to finish, somehow, without tumbling into complete disaster.

Often incomprehensible (a combination of jumpy editing and lots of thick British Isles accents) and hardly ever entertaining - even unintentionally.

Reign of Fire never comes close to recovering from its demented premise, but it does sustain an enjoyable level of ridiculousness.
I love this movie, its great. Don't know why it received such bad reviews, after all, its fantasy.

Best epic of the year! I was at the edge of my seat throughout the whole movie. The only problem is that the story needs some work.

Far from the classics that were also released in 2002 such as Signs and Spider-Man, yet good silly entertainment none-the-less. Don't

Far from the classics that were also released in 2002 such as Signs and Spider-Man, yet good silly entertainment none-the-less. Don't expect much more, though.

…

Expand

Beautiful and dark, merciless and somehow realistic movie about survival. The dragons are beautifully made, and they stand out as extreme

Beautiful and dark, merciless and somehow realistic movie about survival. The dragons are beautifully made, and they stand out as extreme predators. Humans, for once, are really there for a lunch.

…

Expand

A stupid ending, with laughable dialogue and Matthew McConaughey looking and acting like something out of GI joe and yet I was never bored and

A stupid ending, with laughable dialogue and Matthew McConaughey looking and acting like something out of GI joe and yet I was never bored and found it quite entertaining. I'm a bit annoyed though because it's never as epic or explosive as it should be and never as heartfelt as it wants to be. The cover and posters are misleading

…

Expand