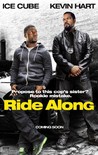 Starring:

Ice Cube

,

John Leguizamo

,

Kevin Hart

,

Tika Sumpter

Summary:

Fast-talking security guard Ben joins his cop soon-to-be brother-in-law James on a 24-hour patrol of Atlanta in order to prove himself worthy of marrying Angela, James' sister.
Director:

Tim Story

Genre(s):

Action

,

Comedy

Rating:

PG-13

Runtime:

99 min
Please enter your birth date to continue:
You are not allowed to view this material at this time.
For 100 minutes, I didn't think about anything else at all. And sometimes that small relief is the best thing a movie can give.

Hart is clearly working overtime; there's nothing effortless about his histrionic delivery, but it works.

Turns out to be something like a comic riff on "Training Day." Leaning more toward Hart's brand of slightly raunchy humor rather than Ice Cube's equally popular family-friendly fare, the PG-13 film exhibits broad appeal.

A lazy and listless buddy-cop action-comedy that fades from memory as quickly as its generic title.

Story and his four screenwriters don't exactly strain themselves to find a new angle in this mismatched buddy comedy. Picture "Rush Hour," and then imagine Hart as the annoying kid in "Are We There Yet?" You've basically just watched the entire movie in your head.

Ride Along is a film so casual in its conception and execution, it should be titled Drive Thru.
This movie deserves more than it gets. It kept me rolling!! This movie is number 2 on my Top 10 funniest movies ever. Ice Cube wasn't acting

This movie deserves more than it gets. It kept me rolling!! This movie is number 2 on my Top 10 funniest movies ever. Ice Cube wasn't acting the best this time but that's okay Kevin Hart made us look over the fact that cube wasn't on his game. It's definitely worth the time. So if you want a night of good laughs this is the movie to watch. So I give this movie a 9 out of 10. Thanks for reading.

…

Expand

If you are looking for a clean comedy with Kevin Hart and Ice Cube, this movie is as clean as it can be with very little cussing and loads of

If you are looking for a clean comedy with Kevin Hart and Ice Cube, this movie is as clean as it can be with very little cussing and loads of action, I did enjoy this movie and also love watching Kevin Hart!!
My score for this movie is 8 out of 10.

…

Expand

Hilarious movie, and very entertaining. The interactions between Kevin Hart and Ice Cube are worth watching. However, the movie's ending feels

Hilarious movie, and very entertaining. The interactions between Kevin Hart and Ice Cube are worth watching. However, the movie's ending feels rushed and incomplete, and basically makes the rest of the movie feel as though it was there for nothing. A lot more could have been added to the movie; in fact, an additional 30 minutes could have been added to prevent the ending seeming as incomplete as it is.

…

Expand

Frankly, Ride Along was only watchable due to the fact that I've enjoyed these actors in other movies. Kevin Hart is the sole actor to bring

Frankly, Ride Along was only watchable due to the fact that I've enjoyed these actors in other movies. Kevin Hart is the sole actor to bring any humor out of the script, but given the flat performance of Ice Cube, Lawrence Fishburne and the rest of the cast, I just can't say that Hart's part is enough reason to watch. Also, plot points are often introduced to soon be abandoned for the next minor plot point.

…

Expand

A little bit better than its sequel because that's why I'm here. Ice Cube and Kevin Hart can easily make a great combo, but the movie falls

A little bit better than its sequel because that's why I'm here. Ice Cube and Kevin Hart can easily make a great combo, but the movie falls apart from the combo.

…

Expand

"Ride Along" manages to get a few laughs from me, but the main character played by the wild eccentric talented comic Kevin Hart is so

"Ride Along" manages to get a few laughs from me, but the main character played by the wild eccentric talented comic Kevin Hart is so annoying, yes I know he's supposed to be that way but it's so annoying and painful watching him for one-hour and forty minutes. Kevin Hart plays Ben Barber a security guard, who has tried to convince James (Ice Cube) that he is worthy of marrying James' sister Angela (Tika Sumpter). Ben is invited to the police academy, James decides to test his mettle by inviting him along on the shift designed to scare the trainee. Director Tim Story (Barber Shop, Think Like A Man and Fantastic Four) provides Hart and Cube some funny comedic landscape and Story does succeed by making it making it funny, but overall Hart and Cube would do better if they had a different director and had a better director instead Hart and Cube are trying to shine and make the script work also outshine the bad direction by Story. Laurence Fishbourne is good as the villain, also John Leguizamo is miss-cast.

…

Expand

this movie is definitely a piece of **** I know this because it popped up on my computer and pissed me the **** off. I would never, and will

this movie is definitely a piece of **** I know this because it popped up on my computer and pissed me the **** off. I would never, and will never support such an asinine form of advertisement, and refuse to participate in such a bogus form of intellectual degradation. Piss the ****ed off.
Me

…

Expand