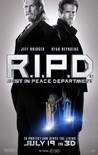 Director:

Robert Schwentke

Genre(s):

Action

,

Fantasy

,

Comedy

,

Crime

Rating:

PG-13

Runtime:

96 min
Please enter your birth date to continue:
You are not allowed to view this material at this time.
Thank heavens — or at least the "Department of Eternal Affairs" — for Jeff Bridges, whose hilariously free-associative performance as a 19th-century frontier marshal-turned-21st-century undead lawman is like an adrenaline shot to the heart of R.I.P.D.

A film that grows less compelling and original by the minute, R.I.P.D. serves due notice that the mismatched-buddy-cop movie is wearing out its welcome all over again.

There is less eye candy than you would expect, and it's underwhelming.

Unfortunately, the interesting drabness of the afterlife's police department is paired with the colorless paucity of the film's heavies...The deados, unmemorable CG brutes, spout generic bad-guy dialogue undistinguished by humor or characterization.

A dud that squanders a decent cast and succeeds neither as the comedy nor the action film it purports to be.

Tired byplay between Reynolds's mystified straight man and Bridges's supernatural old pro will kill off any fond memories you have of zesty buddy films past and present.

This expensive misfire runs a little less than ninety minutes, which means that there's likely a 105-110 minute long version that the producers hacked up in order to get the maximum amount of 3D showtimes to not embarrass the studio on opening weekend. Judging by the released product, that version is likely even worse, if such a thing were possible.
Don't listen to all this hate. This movie was action packed and a good, imaginative story made this movie great. I can't believe all this hate

Don't listen to all this hate. This movie was action packed and a good, imaginative story made this movie great. I can't believe all this hate for such a great movie. OK, maybe it was a bit like Men in Black but the story was completely original. Ryan Reynold and Jeff Bridges performance was great. definitely recommend this for people who want an original, funny, and well made sci-fi movie.

…

Expand

I totally don't understand all the hate towards this movie. Yes, R.I.P.D. has many parallels with Men In Black, but it's not the makers'

I totally don't understand all the hate towards this movie. Yes, R.I.P.D. has many parallels with Men In Black, but it's not the makers' fault, it's based on an existing comic after all. Besides, "a MIB clone" sounds like a compliment for me, since I absolutely love the MIB movies. Anyway, this movie's got stellar cast (Reynolds, cowboy Bridges, Kevin Bacon and the ever-pretty Mary-Louise Parker), mostly funny jokes, quite gripping action scenes and, suddenly, a bit of convincing drama. Now the downsides are that the plot's a bit predictable and the visual effects aren't all polished, but those are minor to me. A solid 8 out of 10, don't skip this out because of the critics.

…

Expand

I have no idea why the other users on this site are being so harsh. I though it was an okay, some what cheesy action comedy. But anyone who

I have no idea why the other users on this site are being so harsh. I though it was an okay, some what cheesy action comedy. But anyone who says it's bad didn't needs to get better taste in movies. Personally, I had a great time seeing it, and I think you will too.

…

Expand

It can be entertaining at times. And the visual effects are better than expected. That said, the only really good thing about it is that you

It can be entertaining at times. And the visual effects are better than expected. That said, the only really good thing about it is that you get to see Ryan Reynolds hot body for an entire movie. He is so fine.

…

Expand

After last years Men in Black 3 I got a taste for the early days of Sci-Fi buddy pics, the original MIB and the breezy thrills of two guys

After last years Men in Black 3 I got a taste for the early days of Sci-Fi buddy pics, the original MIB and the breezy thrills of two guys throwing caution to the wind to protect the people of the world, RIPD is that film and as it turns out I wasn't missing much at all. When NIck (Ryan Reynolds) is murdered hi is enlisted by the RIPD, the Rest In Peace Department, a group of undead officers including Nick's new partner Roy (Jeff Bridges) that hunt deados, undead that refuse to just die and cling to life until Roy and Nick and the rest of the RIPD can bring them in or destroy them. Everything about RIPD is reused and fashioned out of spare parts other movies didn't want. It's a poor man's Men in Black as it follows the same formula (two partners, one old, one young, one recently recruited, the other a seasoned pro who still has things to learn.) It's vapid film making that only really stands out thanks to its comic book action sequences and stellar CGI action that MIB didn't have back when the originals came out. Everything else is unfortunate mimicry that is just plain painful to watch.

…

Expand

Funny bits in between a vast ocean of boredom. Nothing new cliched up the portal to heaven. Like riding in wagon with hemorrhoids. It was fun

Funny bits in between a vast ocean of boredom. Nothing new cliched up the portal to heaven. Like riding in wagon with hemorrhoids. It was fun and a good couple of chuckles but never again shall a watch this

…

Expand

Short review: Bad.
Long review: Baaaaaaaaaaaaaaaaad.
Truely one of the worst movies I've seen in a long time. Bad effects, poor actingShort review: Bad.
Long review: Baaaaaaaaaaaaaaaaad.

Truely one of the worst movies I've seen in a long time. Bad effects, poor acting (minus Jeff Bridges), and a story that's about as interesting as Scooby Doo in adult form.

…

Expand