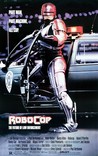 Starring:

Nancy Allen

,

Peter Weller

Summary:

When Officer Alex J. Murphy (Weller) is murdered in a futuristic crime-ridden Detroit, scientists and doctors decide to turn him into a "Robocop". He seeks revenge when memories of his past life return.

Director:

Paul Verhoeven

Genre(s):

Action

,

Sci-Fi

,

Drama

,

Thriller

,

Crime

Rating:

R

Runtime:

102 min
Robocop is as tightly worked as a film can be, not a moment or line wasted.

Robocop is one weird and entertaining hybrid of camp and sci-fi shoot-'em-up.

It was this love of mayhem combined with a biting comic attack on neo-fascist corporatism - most notably seen in the TV ads for products like the apocalyptic board game Nuke 'Em - which helped raise Robocop above the common sci-fi herd.

[Verhoeven's] cold, slick, funny, high-powered movie is informed by a humanism this genre almost always abandons in its chase after vigilante splat. [17 Jul 1987]

Great effects and a nasty undercurrent drive this vehicle.

The action is skillfully directed by Dutch filmmaker Paul Verhoeven, and there are many bursts of razor-sharp social satire. But the story amounts to a celebration of brute force in a crudely etched law-and-order context.

There's a brooding, agonized quality to the violence that almost seems subversive, as if Verhoeven were both appalled and fascinated by his complicity in the toxic action rot.
Brilliant. Sums up the 80's action genre in one film. Fantastic plot, amazing soundtrack, great action choreography. And a random, excessive,

but exciting level of violence. This film will force you to your couch in an exhilarating turn of events. Then you go to sleep at the end of the film and have one thought. Wow.

…

Expand

I am supremely impressed. not by the fact that it avoid the typical inept 80's action movie stereotypes, but by the entire film. It's epic,

it's grand, it's just so goddamn amazing. One would expect less, but when that one person decides to see this, they will be smiten and ashamed as to their thoughts of the movie prior.

…

Expand

After watching the new RoboCop and seeing how bad it was i thought id give the original another try. Its been years since the last time i

watched the movie but i remember that it was totally kickass. Just like i remember i loved the movie right from the beginning this like many other 80's and 90's action movies feels more raw and real rather then the action movies we have now. There is no comparing this to the new RoboCop movie as this movie is hands down miles better then its remake even Peter Weller as RoboCop/Murphy was better then Joel Kinnaman and hewas the best part of that of the remake. The action is great and a bit brutal which i thought was awesome even though some of the action scenes were stop motion/go motion but i found those parts to be funny. Though with the remastered Blu ray version that was just released last month the whole movie looks absolutely amazing if you are going to be watching this movie anytime soon id recommend watching that version you wont regret it.

Overall i give it a 8.0 also Kurtwood Smith as the villain was just too funny but he did a great job.

…

Expand

It's pretty fitting that I write down a review for RoboCop a month away from the release of the remake.

This movie was always about the way society had been (and some would say still is) on a downward spiral, with interest in hyperviolence, endless consumerism and corporate greed destroying normal family lives.
And that's the charm with the RoboCop movie, it sits you down and shows you the exact thing you want, but not in a good light. The idea of ED209 gunning a man to death may simply entertain the younger mindset for the gore, but with older people we can see a parallel with vampant police brutality and a failure to police that side of the law.
While this movie will never be lauded as a cinematic milestone in the areas of acting, directing or producing, it is and forever will be a cultural megahit that - hopefully - will not be lost to the new generation when this PG-13 version comes out.

…

Expand

It's pretty excessively and unreasonably violent, but it's also a pretty engaging revenge flick.