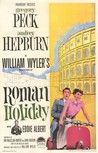 Starring:

Audrey Hepburn

,

Eddie Albert

,

Gregory Peck

Summary:

Princess Ann (Hepburn) runs from her duties while in Italy and meets a reporter (Peck) looking for an exclusive story. He acts as if he doesn't know who she is but he soon finds himself falling in love with her.
Director:

William Wyler

Genre(s):

Drama

,

Comedy

,

Romance

Rating:

Passed

Runtime:

118 min
Please enter your birth date to continue:
You are not allowed to view this material at this time.
The film has enough adventure and excitement to satisfy, and the faintly bittersweet note of the ending is made deliciously palatable by its artistic rightness.

[William Wyler] times the chuckles with a never-flagging pace, puts heart into the laughs, endows the footage with some boff bits of business and points up some tender, poignant scenes in using the smart script and the cast to the utmost advantage.

It delivers on everything it promises, from the modern day reverse-Cinderella fable to a fabric of low-key humor. [Review of re-release]

Witty, warm and beautifully filmed by Franz Planer and Henri Alekan, it remains an unabashed romantic delight, with Hepburn particularly luminescent. [Review of re-release]

It is a contrived fable but a bittersweet legend with laughs that leaves the spirits soaring.

The film itself is a classic of romantic wish fulfillment, exactly the sort of beautiful lie that Hollywood specialized in. [Review of re-release]

Wyler lays out all the elements with care and precision, but the romantic comedy never comes together - it's charm by computer. [Review of re-release]
This review contains spoilers, click expand to view.

Audrey Hepburn embodies the sweetness of a girl searching for a better life and a sense of freedom in a beautiful romantic comedy shot in Italy only 8 years after liberation in WW2, also featuring charismatic actor Gregory Peck has the man who she is destined to love forever, as they both make a great screwball journey of self-discovery and enjoyment until the ending

…

Expand

A sweet film, with unassuming and natural performances from all involved. It's not a clever film, it's here to entertain and there is enough

A sweet film, with unassuming and natural performances from all involved. It's not a clever film, it's here to entertain and there is enough humanity to captivate and make light of a serious situation. There is nothing more fascinating than seeing the newly liberated Italy, post WW2, through Hepburn's innocent eyes. It is simultaneously educational, filmed on location in Rome, and hilariously funny and Hepburn has never looked so magnificent on film. They certainly do not make films with such integrity anymore. 9/10 91/100

…

Collapse

A wholesome and fun romantic comedy with a big heart and a good amount of laughs, it's no surprise why so many films would go on to try and

A wholesome and fun romantic comedy with a big heart and a good amount of laughs, it's no surprise why so many films would go on to try and replicate what "Roman Holiday" did first.

…

Expand