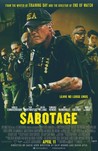 Summary:

Members of an elite DEA task force find themselves being taken down one by one after they rob a drug cartel safe house.
Director:

David Ayer

Genre(s):

Action

,

Drama

,

Thriller

,

Crime

Rating:

R

Runtime:

109 min
Please enter your birth date to continue:
You are not allowed to view this material at this time.
This brutal, bloody, dark and at times gruesomely funny thriller isn't some David Fincher-esque mood piece where all the clues come together at the end. It's more like a modern-day, Georgia version of a spaghetti Western.

There's a great sense of rot to everything as shot by Bruce McCleery, and David Sardy's score is propulsive and appropriately caustic. What ultimately works about Sabotage is the way it so unabashedly plays rough.

You're thankful when Ayer stops trying to artistically tart up this Peckinpah-lite tale of vengeance and just lets his leading man do what he does best: blow the bad guys away.

David Ayer's latest, Sabotage, is a sloppy DEA whodunit, distinguished by its scatological humor and gore.

Artificially jacked up to feel like mean but serious fun, Sabotage mostly flings blood, vengeance, testosterone and clichés to the wall to see what sticks.

There's no sense of visual artifice to match the ludicrous pitch of the script, and subsequently, the film comes off as awkward and uncertain.

Does this mean that Sabotage is a rich, morally complex story about the gray zone between good and evil? Hell, no. It just means it is a bungle.
I am a huge fan of David Ayer both as a writer and a director! He first caught my eye with End of Watch, then once again with Training Day!

I am a huge fan of David Ayer both as a writer and a director! He first caught my eye with End of Watch, then once again with Training Day! What I'm trying to say is that Sabotage did not disappoint, he has delivered yet another classic that I am more than happy to add to my collection! Its brutal, its bloody, its deep and its thought provoking! Well done David! Keep up the good work!

…

Expand

No, this is not your typical Schwarzenegger action movie with tongue-in-cheek humor. This movie is nihilistic, gritty and has a much more

No, this is not your typical Schwarzenegger action movie with tongue-in-cheek humor. This movie is nihilistic, gritty and has a much more realistic feel to it. Although Arnold is not one of the great character actors like Robert de Niro, I don't think he's miscast at all. His unusually dark performance works just as well as the ones provided by the actors playing his team mates who've been psychologically deformed due to their job. The story has a few implausibilities but also a number of twists that kept me guessing. The only thing I didn't like so much was the ending. It seemed a little out of place compared to the rest of the movie.

…

Expand

Arnold is back, and at 67 years old he hasn't missed a beat. Sabotage is the Governor's third starring role since returning from his stint in

Arnold is back, and at 67 years old he hasn't missed a beat. Sabotage is the Governor's third starring role since returning from his stint in politics, and it's easily his best one to date. Schwarzenegger stars as Breacher, the commander of an elite DEA swat team, who agrees to help his under appreciated team take part in the theft of millions of dollars, from a top cartel boss. The heist goes relatively smoothly, but when the team goes to retrieve their money, they discover that one of them double crossed the rest and had stolen the pay day. Everyone is upset and trying to figure out who it was, when the cartel shows up looking for retribution. As the cartel picks off the team one by one, the remaining members have to ban together to try and stop them, except this time, they have to do it knowing that one of them is a trader. Arnold isn't doing the crazy stunts or fighting scenes that he's become synonymous for, he's in more of a leadership role in this film, but he's still the man when it comes to action films. Here he's paired with the Killing's Mireille Enos, who as the only female member of the team, gives an amazing performance. I'm used to her always playing these quiet, reserved, troubled characters, and it was a real treat to see her break out as the wild girl on a team full of men. Sabotage is the rarest of Action films, as it is one with a great storyline, that is as gripping as any drama. The film isn't just about killing people and blowing things up, it has plenty of that, but in the case of Sabotage, there is a reason for all of it, and this film will really keep you on the edge of your seat.

…

Expand

Arnold was great in it and it's uber violent in all the best ways, but it's also not an action movie. It's more of a mystery thriller that has

Arnold was great in it and it's uber violent in all the best ways, but it's also not an action movie. It's more of a mystery thriller that has some action scenes. All the characters and actors are wasted outside of Arnold though and the "twists' and narrative are nothing special. I really like Arnold movies but this is probably one of the few I just can't get into.

…

Expand

When will Hollywood learn that making your super awesome action hero suddenly loose accuracy, is not a good way to create suspense. Come on!!

When will Hollywood learn that making your super awesome action hero suddenly loose accuracy, is not a good way to create suspense. Come on!! This was sad!

…

Expand

This movie would have been better without casting Sugar as an African American. I am tired of the Race Baiting; America will no longer

This movie would have been better without casting Sugar as an African American. I am tired of the Race Baiting; America will no longer tolerate it in any shape or form! But aside from that, the movie has gore, the storyline is grim and there is really nothing to look forward to in the ending of this movie. Just killing and more killing and then killing the people who were originally intended to be killed. The movie is extremely vulgar and rude, nobody respects anyone in this movie. It does have a brilliantly sadistic plot that will keep you linking parts of the storyline together long after you have wished you had never seen the movie...

Women are seemingly not the kind of role models a parent would want their daughter to aspire to; IE. Drug Use, Prostitution, Being Easily Exploited Politics. You will scarcely see a woman in this movie that wasn't a total idiot.

The only thing this movie has to be proud of is still being a better movie than "Dread."

…

Expand

Utter crap. Pretty much every single person in this movie is annoying. The story is just there as an excuse for people to shoot each other.

Utter crap. Pretty much every single person in this movie is annoying. The story is just there as an excuse for people to shoot each other. Total waste of acting talent, seeing as there are quite a few actors/actresses starring that I actually like. Oh, and the cursing, completely over-the-top unnecessary. And I'm not one to hate a movie just because of the amount of swearing in it. The Big Lebowski is one of my favourite films.

…

Expand