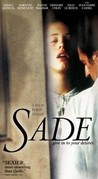 Starring:

Daniel Auteuil

,

Marianne Denicourt

Summary:

Based on the novel by Serge Bramly, this film chronicles the later years of the infamous Marquis De Sade (Auteuil).
Director:

Benoît Jacquot

Genre(s):

Biography

,

Drama

,

History

,

Crime

Runtime:

100 min
In keeping with his concept that the mind and the body are inseparable, Sade builds to an extraordinarily powerful centerpiece when the two come together, fusing fear and desire, pleasure and pain, innocence and enlightenment.

What an amazing little film. God love the French. They make movies with ideas in them, other than: How many cars can we blow up?

Despite Auteuil's performance, it's a rather listless amble down the middle of the road, where the thematic ironies are too obvious and the sexual politics too smug.

Is it about a moment in history and how the life of a sexual predator fits into that moment? Or is it just about a director's sexual fantasy? The answers are somewhat fuzzy.

If you're looking for thrills, you should know that you have to wade through a good seven-eighths of the movie before Sade does anything remotely disreputable, and even then it's a rather mechanical bit of business that would have been more effective (and more disturbing) if it had been handled with a bit of humor.

Achieves the near-impossible: It turns the Marquis de Sade into a dullard.