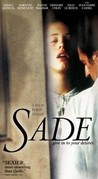 Starring:

Daniel Auteuil

,

Marianne Denicourt

Summary:

Based on the novel by Serge Bramly, this film chronicles the later years of the infamous Marquis De Sade (Auteuil).
Director:

Benoît Jacquot

Genre(s):

Biography

,

Drama

,

History

,

Crime

Runtime:

100 min
In keeping with his concept that the mind and the body are inseparable, Sade builds to an extraordinarily powerful centerpiece when the two come together, fusing fear and desire, pleasure and pain, innocence and enlightenment.

In its quiet, literate way, the film is almost as subversive as its central character.

Auteuil gives a superior performance. While Rush played him as a buffoon, Auteuil gives the character the charm of an aristocratic savant.

In any case, this is the image of the marquis we would know had he been handled by a top publicity team.

Is it about a moment in history and how the life of a sexual predator fits into that moment? Or is it just about a director's sexual fantasy? The answers are somewhat fuzzy.

Interestingly, the real horror lies in the film's depiction of the era: The sight of guillotined bodies -- naked, headless and dumped under the shady trees of Picpus -- is truly shocking. Rarely has the horror of the Terror been so graphically and effectively evoked.

Achieves the near-impossible: It turns the Marquis de Sade into a dullard.