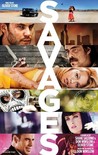 Starring:

Aaron Johnson

,

Benicio Del Toro

,

Blake Lively

,

Demián Bichir

,

John Travolta

,

Taylor Kitsch

Summary:

Laguna Beach entrepreneurs Ben, a peaceful and charitable Buddhist, and his closest friend Chon, a former Navy SEAL and ex-mercenary, run a lucrative, homegrown industry—raising some of the best marijuana ever developed. They also share a one-of-a-kind love with the extraordinary beauty

Laguna Beach entrepreneurs Ben, a peaceful and charitable Buddhist, and his closest friend Chon, a former Navy SEAL and ex-mercenary, run a lucrative, homegrown industry—raising some of the best marijuana ever developed. They also share a one-of-a-kind love with the extraordinary beauty Ophelia. Life is idyllic in their Southern California town...until the Mexican Baja Cartel decides to move in and demands that the trio partners with them. When the merciless head of the BC, Elena, and her brutal enforcer, Lado, underestimate the unbreakable bond among these three friends, Ben and Chon—-with the reluctant, slippery assistance of a dirty DEA agent—-wage a seemingly unwinnable war against the cartel. And so begins a series of increasingly vicious ploys and maneuvers in a high stakes, savage battle of wills. (Universal Pictures)

…

Expand
Director:

Oliver Stone

Genre(s):

Drama

,

Thriller

,

Crime

Rating:

R

Runtime:

131 min
Please enter your birth date to continue:
You are not allowed to view this material at this time.
At the confluence of altered states and state-sanctioned violence, this drug-fueled thriller is Stone's most successfully provocative picture since "JFK."

Stone relies on his leads to guide us into this hyper-charged inferno, and they fit his juiced-up approach like James Woods and Woody Harrelson did in Stone's equally hopped-up "Salvador" and "Natural Born Killers." He gets us high on what they're selling before it goes south.

Stone seems to take a little vicarious pleasure in making these relative lightweights squirm in fear and confusion.

Like "Wall Street: Money Never Sleeps" and "W.," Savages feels like Stone softballing something he should be skewering - in this case, SoCal entitlement and faux-progressive hypocrisy.

Stone's moralism, coupled with discreet but bloody beatings, shootouts and all manner of tawdry goings on, rings hollow. The picture is neither entertaining nor preachy – it is simply very loudly meh.

It's not as if Stone is above this sort of pulp. But as rejiggered for the movies, Savages has trouble making us care what happens to the beautiful people - the untouchables - at the center of the sun-baked fairy tale.
The most stylish, thrilling and sexy Stone movie in ages. Savages a drug fuelled thriller in which Director Oliver Stone lives up to his

The most stylish, thrilling and sexy Stone movie in ages. Savages a drug fuelled thriller in which Director Oliver Stone lives up to his filmmaking and gives us a story about Chon and Ben played the aero five Aaron Taylor Johnson and Taylor Kitsch. When their girl- Ophelia played by Pretty Little Lire's sexy Blake Lively gets kidnapped for their pot growing business by a Baja Drug Cartel, they get the odds to the evens. It may sound stupid but this is effective acting by Lado played by the one and only Bencio Del Toro and Elena played by Salma Hayek. Both actors are what that makes up Savages. Also Johnson gives a fine performance as Ben. In the end you are hallucinated by this thriller and the deep score that adds up to a fine masterpiece by Oliver Stone.

…

Expand

"Savages" was a very entertaining piece of work that i enjoyed from the moment it started all the way to the trip out ending! i had read the

"Savages" was a very entertaining piece of work that i enjoyed from the moment it started all the way to the trip out ending! i had read the book right before i went to see the movie, which gave me a better appreciation for the story and characters. I suggest you go out and see this bloody, thrill ride because its one of the better and story-driven movies to come out this year.

…

Expand

Every time Oliver Stone comes to the big screen, the nostalgic thought comes to mind, (Wall Street), which is a great made film, and (Platoon)

Every time Oliver Stone comes to the big screen, the nostalgic thought comes to mind, (Wall Street), which is a great made film, and (Platoon) which won stone his first oscar win for best director. With a fantastic resume, Can Savages live up to the expectations of previous stone films? Chon, played by (Taylor Kitsch) is part of a drug rising and selling business with his best friend Ben (Aaron Johnson). Together, they have an empire of marijuana. Also, in their empire, they are both in love with O (Blake Lively, who plays a true slut, Haha). Mexican Cartel leader Elena, played by the ever so beautiful, (Selma Hayek), who plays a very passionate cartel leader, who when seeing her on screen, you know she has complete power. Elena wants to work with Chon and Ben, and use their knowledge of the drug business to make one huge profit. Along the way we are introduced to Lado (Benicio Del Toro), who steals every single scene in the movie with such a charismatic style, and Dennis performed by (John Travolta), who personally I

…

Expand

In his reversion to graphic, unrelenting brutality and incendiary sensationalism--elements found in his frenetically charged "Natural Born

In his reversion to graphic, unrelenting brutality and incendiary sensationalism--elements found in his frenetically charged "Natural Born Killers"--Oliver Stone celebrates a trio of non-heroes against the backdrop of the pot industry; everything is well, even an unconventional menage a trois, until the consequences of their homegrown operation take a pernicious turn. Mixing an overtly expressed "Butch Cassidy and the Sundance Kid" love triangle with a ruthless ring of drug lords, Stone creates a flashy- meets-filthy-mess of a spectacle sure to satisfy fans of the summer caper, while too, alotting time on the soap box, pushing a political agenda--though not excessively--all while capturing the idiocy of current legislation. As for the characters themselves, it's the trio not mentioned that are the most effective; Del Toro, as Lado, is delightfully dark and chilling as the deranged assassin, a middle-aged, fatted, amorally disciplined Travolta is also worthy of mention, as he renders his best performance in years, delineating the greatly desperate family man, and arguably most entertaining of all is Hayek, the svelte Cleopatra-esque boss who avoids falling into camp thanks to her dexterous handle on the moral complexities that come from maintaining the facade of power on the outside with the melancholy ruefulness she holds privately behind closed doors. She nails the balance, and does so passionately. Though many will find "Savages" to be far too violent, and unwarrantably so, others voicing opposition in relation to its conclusion, all should be joyed to see Stone in his regular form: dauntless and headstrong. This, however, is not without noting the undeniable mess he creates and craftily "cleans up;" let's not deny, love him or hate him, Stone is one of the best in the business in that regard. At times taking the audience away from the film, (I'm sure I'm not the only one who was frustrated by Lively's intermittent narrative) "Savages" doesn't always immerse, as by the end of it all, one might question why they should care about the three uninterestingly woeful friends (Klitsch, Johnson, Lively). Further, "Savages," is energetic and entertaining, no question, but the closer the eye examines Stone's cunning skill for deception, and what lies beneath the elaborately stylish skirt he loftily casts, the more familiar this summer caper looks--the only difference being--this one has an eye for fashion.

…

Expand

Caught up by one-too-many obstacles and loses sight of quality filmmaking. The premise is also vague--taking numerous turns, creating an

Caught up by one-too-many obstacles and loses sight of quality filmmaking. The premise is also vague--taking numerous turns, creating an unbelievable and indistinct piece of film.

…

Expand

Wargasms? Are you kidding me man? I had to turn this film off. It's trying far too hard to be cool. Not gritty at all. Over the top in the

Wargasms? Are you kidding me man? I had to turn this film off. It's trying far too hard to be cool. Not gritty at all. Over the top in the extreme with the music, editing, even to the point of glamorizing the violence. Not a good idea to have a woman shot in the head followed by some cool music with a bunch of gangsters strutting along looking all bad!ass. This film might be trying to say something good, who knows. I just couldn't hack the style. Ok so Scarface is over the top, but it had atmosphere, mood, and it was intense, The violence was necessary but not gratuitous for the sake of it.

…

Expand