Release Date:

Jan 19, 2001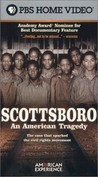 Starring:

Frances McDormand

,

Stanley Tucci

Summary:

Covering several decades, this documentary examines the Scottsboro case, an often-overlooked chapter in our nation's history. The case centered on nine black men, ages thirteen to nineteen, who were accused of raping two young white women while riding the rails in Alabama in 1931.
Film makers Barak Goodman and Daniel Anker dig deep into the story and its ramifications, exposing how the twin evils of racism and anti-Semitism combined to foment institutional injustice, and led — if a silver lining could be found — to the triumphs of the civil-rights movement two and three decades later.

The filmmakers know how potent the material is, and they don't hammer away at the obvious.

The first full-scale documentary about the history of those years, and it lays out lucidly the involvement of the Communist Party in the young men's defense and the ways in which the trials, against the backdrop of the Depression, replayed the murderous quarrels of the Civil War all over again.

A well-researched picture of how racism led to nine men being falsely accused and wrongly convicted. One only wishes that the filmmakers had more than 84 minutes in which to tell the story.

All emerge as vivid historical figures in this lucid account.

Goodman and Anker adroitly shape a cohesive drama out of a complicated history.

As fascinating as the case is as history, however, Scottsboro: An American Tragedy is a TV show, not a movie.