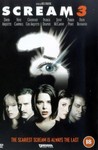 Starring:

Courteney Cox

,

Neve Campbell

Summary:

Stars Neve Campbell, David Arquette and Courtney Cox Arquette are back for more in the chilling final chapter of this phenomenally popular and frightfully entertaining trilogy. While Sydney Prescott (Campbell) lives in safely guarded seclusion, bodies begin dropping around the Hollywood set

of "Stab 3," the latest movie sequel based on the gruesome Woodsboro killings.

…

Expand

Director:

Wes Craven

Genre(s):

Mystery

,

Thriller

,

Horror

,

Comedy

Rating:

R

Runtime:

116 min
For the initiated, the third time's a charm. For everyone else, it's just a scream.

Scream 3 also has wit and intelligence, but at their core the Scream movies are still slasher films and this one is no exception.

Where Scream 3 triumphs is in its wacky, take-no-prisoners, I am a Juggernaut of Terror, Hee, Hee attitude, which wisely makes room for some downright surreal moments amongst the carnage.

It's got turns, it's got an attractive cast that gets shish-kabobed with ruthless regularity. It's just tired.

First rule of a film trilogy: Part 3 sucks. See "The Godfather 3,"" Alien 3,"" Jaws 3." Even "Return of the Jedi" was just a rehash of "Star Wars" with muppets. Add Scream 3 to that trend.
Scream 3 has many new actors and a twist that connects all three movies. As good as the first two.


===================================================

…

Expand

I'm gonna go against the crowd and say that this was my favorite installment of "Scream." It has a a good plot, a good music score, a great

cast, everything that's suppose to be in a film. I also liked the small tastes of humor that were presented through out the film. Great movie! The "Scream" Trilogy is the best horror trilogy of all time.

…

Expand

Well, the Scream films just keep going down in quality (Please God let the fourth one be good!!!) It had definite glaring flaws but it still

was great fun to watch. Ghostface still has to earn his kills which is a nice thing to see, and there is a decent amount of cute comedy. The acting is pretty much the same all around. The screenplay was much weaker. There were some parts that were like "okay really? you could have done better than that." It was simply a good time all around. Nothing too special. I wouldn't rank it as high as the first or even the second. But it was fun. My advice: see it as a completion of the trilogy. Particularly if you are going to see the fourth one.


TRIVIA TIME: 1. Wes Craven filmed three different endings and didn't tell the cast which one he was going to use.

2. The bathroom Sidney finds Angelina in on the set of "Stab 3" is the same bathroom used when Sidney is attacked in the original Scream. You can tell by position of doors and soap dispenser design.

3. Between Scream 2 and Scream 3, David Arquette and Courteney Cox (two of the five actors who feature in all the Scream movies) got married. They met on the set of the first movie, were an item whilst shooting the second and by the third they were married. Courteney added 'Arquette' to the end of her name, as can be seen in the credits. Courteney and David had to cut their honeymoon short to begin filming Scream 3.

…

Expand

Overall I Am Really Not Sure What To Score This Film..
Scream Was Good, And Scream 2 Rocked, But Scream 3??
Some Things In This Movie Were Done Very Well.. Neve Campbell Does A Great Job, As Well As Courtney Cox, But David Arquat Is A Very Bad Actor.. He Needed To Be Cut Off From Ruining This Movie.. Dewey Go!
In Some Spots There Are Really Bad Writing.. But In Others Its Very, Very, Good...
Overall This Is Not A Bad Movie Or A Good Movie.. It's Just A Movie :)

…

Expand

Unfortunatelly, Scream 3 had my hopes way too high. This story has a lot of plot holes, and lacks Kevin Williamson's creative ideas, who was

replaced by a screenwritter, who I don't know how he managed to turn The Ring into an overall suspenful, yet scary movie. Ends up being a slap fade in the face for trilogies, because it is the typical mediocre third movie of a franchise. Still, Neve Campbell, David Arquette and Courtney Cox give their best performances in the whole series, but their overshadowed by the dreadful plot and the abuse of meta-humour!!
I give this movie a 30 % just because of the main cast performances, the rest of the actors/characters are transparent, and you won't even rememeber them for a second!!!

…

Expand

A poorly executed film that nearly fails on all levels. It's not scary, it's not funny or clever, it's just a drag.