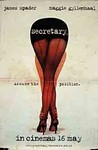 Starring:

James Spader

,

Maggie Gyllenhaal

Summary:

A powerful and unique love story that toys with our expectations of love, sexuality and intimacy. (Lions Gate)
Director:

Steven Shainberg

Genre(s):

Drama

,

Comedy

,

Romance

Rating:

R

Runtime:

104 min
Please enter your birth date to continue:
You are not allowed to view this material at this time.
There's a word for an actress who can go from nervous to winsome to raunchy to romantic in a heartbeat and get you to adore her the whole time. The word is star.

Secretary is one of the best of a growing strain of daring films -- "Bliss," "The Lifestyle," "Satin Rouge" -- that argue that any sexual relationship that doesn't hurt anyone and works for its participants is a relationship that is worthy of our respect.

The unnecessarily emphatic ending suggests that Secretary's makers are a bit anxious to demonstrate they've whipped a potentially grotesque, spanks-for-the-memories scenario into the season's most romantic love story -- which is, in fact, what they've done.

Pulls off a neat trick: It's a poignant, sweet-natured love story in which what most of us would call kinky sex - domination, submission, some enthusiastic spanking - is featured prominently, but not pruriently.

Secretary, like the type of relationship it explores, is not for everybody. But it does what good films do best; that is to provoke us, push our buttons, make us think and maybe even entertain us in the process.

The movie works hard to be naughty, but its sub-David Lynch style doesn't quite click. Gyllenhaal is excellent and Spader effectively adds to his roster of creepy characters.

It provokes nothing but yawns, and the sex it explores is stuff everybody knows about and says, "So what?"
James Spader was exceptional and it took a subject that isn't all that uncommon and made it mainstream. This isn't hardcore BDSM,

James Spader was exceptional and it took a subject that isn't all that uncommon and made it mainstream. This isn't hardcore BDSM, it's just an alternative way to enjoy love.

…

Expand

The Secretary takes all of the standard 'love story' cliches and explores them with more honesty and meaning than any genre

The Secretary takes all of the standard 'love story' cliches and explores them with more honesty and meaning than any genre standard. Spader is perfect in his role; memories of his dysfunctional sexual nature from 'Sex, Lies and videotape' and 'Crash' had me convinced of his 'perversion' from the start. Maggie Gyllenhaal owns the screen with every sultry moment, and her pairing with Spader works perfectly throughout. Whilst the closing minutes of the film seem to go against the unfolding plot of a tragic love story, it works perfectly in achieving its' aim of showing us that there really is someone out there for everybody. Truly memorable performances and a truly touching film.

…

Expand

This film will move you. It gets the culture right. The awkward habits we form sometimes around each other draw closer someone with similar

This film will move you. It gets the culture right. The awkward habits we form sometimes around each other draw closer someone with similar tastes and affections.

Watch it online for free: http://www.watchfree.to/watch-1a6d-Secretary-movie-online-free-putlocker.html

…

Expand

More proof that Maggie Gyllenhaal is one of the most talented, alluring, and underrated actesses working today.

In Secretary, Maggie Gyllenhaal gives the performance of her career as Lee Holloway, a meek and introverted young woman who gets a job as a

In Secretary, Maggie Gyllenhaal gives the performance of her career as Lee Holloway, a meek and introverted young woman who gets a job as a secretary for an oddball small-time lawyer (James Spader), which leads to a less-than-conventional sexual relationship. It's a sweet and engaging tale of two cripplingly shy people, who are unable to communicate with each other at all other than though BDSM. The film insightfully discusses intimacy, desire, sexual fetishism and depression, and manages to strike just the right balance between darkness and light-heartedness in writer/director Steven Shainberg's brilliant screenplay and complex characterisation. Both Lee and E. Edward Grey are interesting, layered and fully-rounded characters with real (if unusual) chemistry, and it's genuinely involving to see how their relationship progresses and how they conquer their fears and evolve as people throughout the film. It is only the last few minutes of the film that the narrative begins to wobble, delivering an ending that is a little too slushy and formulaic for this otherwise pleasantly original film. Even with this jarring change in tone in the final act, Secretary is a quirky, well-written and entertaining comedy-drama that bravely tackles a taboo subject in a way that only independent cinema can.

…

Expand

Excellent movie! Didn't know what to expect when starting this film, however very pleasantly surprised. Gyllenhaal is amazing and so is

Excellent movie! Didn't know what to expect when starting this film, however very pleasantly surprised. Gyllenhaal is amazing and so is Spader, their sheer intensity during some of the scenes makes you shudder. However, I believe that this film is a very powerful metaphor for finding oneself and true love, and can't be missed by the avid movie watcher. Especially someone who likes Gyllenhaal from other pieces. The S&M is not pornographic, rather personal. I highly rate this film, good plot, fantastic characters and actors, excellent movie!

…

Expand

The critically acclaimed 50 Shades of Grey, Secretary is either too smart for me or just about one of the dumbest movies I have ever seen.

The critically acclaimed 50 Shades of Grey, Secretary is either too smart for me or just about one of the dumbest movies I have ever seen. Sexist, unsexy, and one of the worst written films I have ever seen, Secretary is not the worst film I have ever seen, but it not as far off as it should be. It is awkward, uncomfortable, and exists in this sort of dream world that tries to explore sexuality and depression, but winds up just sitting there and waiting for something to happen. Tragically, it never does and the viewer is left in the awkward position of being bored to tears. Character actions are odd, awkward, and completely undeveloped, leaving the audience to wonder why something happened. It not funny, it is poorly directed, and the acting is pretty rough. While I appreciate the dream aesthetic to the film, it is still an unbearable film that is not something I would subject my worst enemy to.

…

Expand