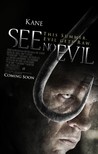 Starring:

Glenn Jacobs

Summary:

Seven feet tall. Four hundred pounds. A rusty steel plate screwed into his skull and razor-sharp fingernails that pluck out his victims' eyes. Reclusive psychopath Jacob Goodnight (Kane) is holed up in the long-abandoned and rotting Blackwell Hotel, alone with his nightmares until eight

Seven feet tall. Four hundred pounds. A rusty steel plate screwed into his skull and razor-sharp fingernails that pluck out his victims' eyes. Reclusive psychopath Jacob Goodnight (Kane) is holed up in the long-abandoned and rotting Blackwell Hotel, alone with his nightmares until eight petty criminals show up for community service along with the cop who put a bullet in Jacob's head four years ago. (Lionsgate)

…

Expand
Director:

Gregory Dark

Genre(s):

Action

,

Mystery

,

Thriller

,

Horror

,

Crime

Rating:

R

Runtime:

84 min
Please enter your birth date to continue:
You are not allowed to view this material at this time.
The gilt-and-grime setting is eerily atmospheric, and screenwriter Dan Madigan has a nicely sick sense of humor.

Throats are ripped, heads are crushed and limbs are severed with brutal efficiency throughout See No Evil, but that's not nearly enough to dispel the sense of deja vu that pervades this generic slasher thriller.

Hippolyte subsequently reinvented himself first as a director of baroque erotic thrillers and then as music-video maestro to pop tarts like Britney Spears, but stalk-and-slash horror -- for all its porn-movie rhythms -- appears to have defeated him.

A ridiculous messy Z grade film that should have been released straight to video.

A punishingly awful slasher film with monosyllabic banter dreadful enough to make viewers yearn for the sophisticated repartee of earlier Dark efforts like "White Bunbusters."

Unlike former porn auteur Gregory Dark's semenal 1985 cumshot opus "New Wave Hookers", this rote exercise in slasher-film tedium holds zero surprises and is about as arousing as Tracy Lords' singing career.
I love gorry movies and horror flicks, this is definetly my fave.

Finally a true horror movie. This is the first time in years that I had to cover my eyes. I am a horror buff and I recommend this movie but

Finally a true horror movie. This is the first time in years that I had to cover my eyes. I am a horror buff and I recommend this movie but it is quite gory. I am not a big wrestling fan but Kane really pulled the whole monster thing off. I have to admit that I didn't want to see this movie, my 17 year old dragged me to it, but am very glad I did. During and after the movie I was looking over my shoulder. I have to agree with others about the whole remake horror movies enough is enough. I think that is why this movie is getting some good reviews. It is a refreshing change and takes you back to The Texas Chainsaw ( first one), Michael Myers, and Jason. And no CGI crap.

…

Expand

See No Evil is the film that started it all for WWE films, and with a sequel due out later this year, I figured I'd give it a shot. The WWE

See No Evil is the film that started it all for WWE films, and with a sequel due out later this year, I figured I'd give it a shot. The WWE films have been surprisingly good, but I think See No Evil is what most people expected when they heard WWE was going into the film business. Kane stars as a mad man, held up in an old abandoned hotel. Chaos quickly ensues, when a group of teenage delinquents are assigned to fix up the hotel, as part of their community service. Kane is a perfect villain, as he is a huge scary guy, however, he plays a character that has all of two lines the whole film. Being that this was WWE's first venture into the film business, they weren't able to get anyone of name to support him, and there were some awful performances, by young actors in their debut roles. This film was a just a very basic, generic, slasher film, that we've all seen a million times. There is nothing of note and it was quite boring and unimaginative. I can only hope with the development of their films division, that WWE and Kane can come up with something better for the sequel.

…

Expand

This movie was just horrible. There is absolutely nothing good you can say about this movie. The writing, acting CGI premise, directing and

This movie was just horrible. There is absolutely nothing good you can say about this movie. The writing, acting CGI premise, directing and action are all just horrible. The deaths weren't even cool. This movie is just an absolute waste of time. I feel like this movie was written on the back of a napkin and the only reason it was made was a producer lost a bet and it was either castrate himself or make this film. I am almost certain after seeing the movie he castrated himself just out of shame. I am just in awe at how horrible this was. Go see another movie and save the money and time you will waste by watching this.

…

Expand

There is no evil to be seen in this disaster. There is only an odor, and it's a lot of crap.

Incredibly generic story supported by poor acting. Not scary either and not entertaining. I agree with critics 100%. This film is a piece of

Incredibly generic story supported by poor acting. Not scary either and not entertaining. I agree with critics 100%. This film is a piece of trash and not worth watching.

…

Expand