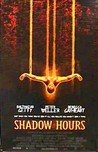 Summary:

A recovering alcoholic and expectant father is paid by a wealthy sensation seeker to hang out with him after hours in Los Angeles, observing and participating in many of the unreported shocking things that happen after dark.
Director:

Isaac H. Eaton

Genre(s):

Drama

,

Thriller

Rating:

R

Runtime:

95 min
Shadow Hours must stand simply as an impressive B movie. Compared with what we've seen lately, however, that doesn't seem like a bad achievement by any means.

An intriguing noir whose conceptual sophistication is partly undermined by naive execution.

Isaac Eaton wrote and directed; he evidences little talent in either department.

A standard morality tale, and looks especially weak in the shadow of "Eyes Wide Shut" and "Fight Club," which it resembles.

A cheaply voyeuristic story whose "twist" is hardly worth the wait.
I like movie becuase it is awesome movie.