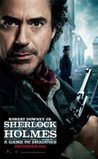 Starring:

Jude Law

,

Rachel McAdams

,

Robert Downey Jr.

Summary:

Sherlock Holmes has always been the smartest man in the room... until now. There is a new criminal mastermind at large—Professor Moriarty—and not only is he Holmes' intellectual equal, but his capacity for evil, coupled with a complete lack of conscience, may actually give him an advantage

Sherlock Holmes has always been the smartest man in the room... until now. There is a new criminal mastermind at large—Professor Moriarty—and not only is he Holmes' intellectual equal, but his capacity for evil, coupled with a complete lack of conscience, may actually give him an advantage over the renowned detective. When the Crown Prince of Austria is found dead, the evidence, as construed by Inspector Lestrade, points to suicide. But Sherlock Holmes deduces that the prince has been the victim of murder—a murder that is only one piece of a larger and much more portentous puzzle, designed by Professor Moriarty. The cunning Moriarty is always one step ahead of Holmes as he spins a web of death and destruction—all part of a greater plan that, if he succeeds, will change the course of history. (Warner Bros. Pictures)



…

Expand
Director:

Guy Ritchie

Genre(s):

Action

,

Mystery

Rating:

PG-13

Runtime:

129 min
Please enter your birth date to continue:
You are not allowed to view this material at this time.
Set aside your memories of the Conan Doyle stories, save them to savor on a night this winter and enjoy this movie as a high-caliber entertainment.

A Game of Shadows is a stronger, better realized movie that builds upon the strengths of the original and jettisons some of the weaknesses.

Yet here, as before, part of the movie's perversely cheeky design is that it throws away its own cleverness.

Director Guy Ritchie is like a Heismann-winning football player cast in a ballet stage-perfectly talented, but wrong for the circumstance.

Virtually every set-up and set-piece in this extravagantly tedious adventure is misleading, or worse, irrelevant.

Fresh inspiration is sparse here; the sequel is less an extension than a remake. Holmes says of one of his lamer disguises, "It's so overt, it's covert." And the shadow in this game is the imposing penumbra of Ritchie's very satisfying 2009 film. It's overt and overwhelming.

There's nothing here but wreckage. Sherlock Holmes: A Game of Shadows is so ineptly made that the story is advanced solely through announcements.
really good! i really like that you have to think harder with this part. part 1 told you everything, and was simple, this one makes you think

really good! i really like that you have to think harder with this part. part 1 told you everything, and was simple, this one makes you think harder, and it was really epic! slow-motion scene in the forest was awesome, fantastic humour to x)

…

Expand

The complex plot, the characters more developed than ever, and perfect performances from Downey Jr and Jude Law, this sequel far surpasses the

The complex plot, the characters more developed than ever, and perfect performances from Downey Jr and Jude Law, this sequel far surpasses the predecessor to present a political plot that is the envy of many other films of the genre, and those beautifull scenes action in slow motion to make this Melor adaption of a book by Conan Doyle.

…

Expand

In this high-octane adventure of our beloved detective, Sherlock Homes takes a turn for the worst as the plot twists through perilous

In this high-octane adventure of our beloved detective, Sherlock Homes takes a turn for the worst as the plot twists through perilous countryside and precipitous mountain. What this film lacks in charm and curiosity that its prequel so marvelously embodied, A Game of Shadows reciprocates in jaw-dropping cinematography and heart-stopping eruptions of emotion and explosion. Downey Jr.'s inquisitive, artistic performance once again locks hand-in-hand with the unlikely role of Holmes in thwarting evil and restoring tenuous peace to Europe. Be prepared for a visual and intellectual treat loaded with bombs and gunfire.

…

Expand

I enjoyed this movie, it was thrilling and comical, moved along at a fair pace and had enough of a plot to maintain interest. the effects were

I enjoyed this movie, it was thrilling and comical, moved along at a fair pace and had enough of a plot to maintain interest. the effects were well done, but the sound was a bit loud, at some times it was scary, i would have rated it M15+

…

Expand

Somewhat better than the first one. The story introduces Professor Moriarty with which Holmes and Watson play a game of wits. There are plenty

Somewhat better than the first one. The story introduces Professor Moriarty with which Holmes and Watson play a game of wits. There are plenty of action scenes with the trademark super-slomo explosions and fistfights Guy Ritchie likes so much. It all looks great and the VFX are pretty good too. At 130 mins it's maybe a bit longer than it should have been but otherwise nice popcorn entertainment.

…

Expand

Rien de bien neuf à l'horizon pour cette suite, à part un scénario plus conventionnel et un ensemble

Rien de bien neuf à l'horizon pour cette suite, à part un scénario plus conventionnel et un ensemble bien plus spectaculaire. Sinon, ce Sherlock Holmes 2 est comme son prédécesseur, c'est-à -dire un blockbuster qui a son public tout comme les gens qui sont réticents au résultat fourni. Faisant parti de ces derniers, j'ai eu droit à un film d'action rondement mené et superbement interprété, mais qui devrait s'intituler autrement, n'accrochant pas du tout à cette version moderne du personnage et à ce côté action et mise en scène (ralentis, ambiance...) qui nous semblent incompatibles au Sherlock des vieux films que l'on préfère. Quant aux adorateurs du premier film de Guy Ritchie, il trouveront sans peine ce qu'ils sont venus voir dans cette suite et ne seront pas déçus.

…

Expand

I would have really enjoyed this film, had it not been shot digitally, and not post-processed to the point of being so dark, it was a strain

I would have really enjoyed this film, had it not been shot digitally, and not post-processed to the point of being so dark, it was a strain to make out exactly what was on the screen. Not that post-processing is a bad thing -- it was put to good use in Se7en by Brad Fincher, but when the screen is S-O-O-O dark, and the action is so jerky (due to digital photography), that you find yourself asking yourself exactly what you made out of the last scene (multiplied by the amount of scenes in the film). There is one scene set in full daylight about 3/4 of the way through -- and to give you an idea, set your monitor brightness to 5% -- now you have an idea of how dark this film is.

There is no twist or turn in the screenplay. It is so predictable as to be laughable. Stephen Fry was a pleasant addition, but his part is woefully under-utilised.

I found the original film to be a surprisingly refreshing film, albeit with too much CG, but action packed and humorous, with plenty of wit.

This film does not rate in comparison, or on its own. You could convert this film into 37-D, and it would still be one dimensional

…

Expand