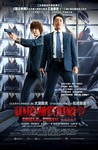 Summary:

"Kill Kunihide Kiyomaru, and I will pay you 1 billion Yen." This is the ad placed in all the main newspapers in Japan. In placing the ad, the powerful billionaire Ninagawa puts an irresistible price on the head of the man he believes to be his granddaughter's killer. Realizing he has become

"Kill Kunihide Kiyomaru, and I will pay you 1 billion Yen." This is the ad placed in all the main newspapers in Japan. In placing the ad, the powerful billionaire Ninagawa puts an irresistible price on the head of the man he believes to be his granddaughter's killer. Realizing he has become a target for millions of people, Kiyomaru turns himself in at the Fukuoka Police Station. Four officers are dispatched to bring Kiyomaru back to Tokyo, risking their own life, but now any number of assassins lie in wait on the 1.2 km journey. The trip becomes a hellish chase, with potential killers at every turn. Will the police get Kiyomaru to Tokyo to face justice, or will justice of a different nature prevail?

…

Collapse
Director:

Takashi Miike

Genre(s):

Thriller

Rating:

Not Rated

Runtime:

124 min
Sleek and engrossing, though awfully drawn out and short on psychological complexity, this is a straight-up police action thriller that adheres to a very familiar Hollywood template.

[A] baggy revenge thriller consisting of short violent set pieces interspersed with far too many talky debates about the morality of protecting a killer.

Even the hackiest of Hollywood writers would have known how to fix its considerable script problems.

A b-movie potboiler at best, and indebted to countless other and much better films, this tedious, dumb, so-bad-it's-almost-funny procedural is an overstuffed thriller that offers one single idea, and proceeds to beat it to death, without much of anything to say.

It is put together with technical competence, but is entirely cliched and preposterous, and it implodes into its own fundamental narrative implausibility.