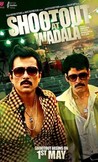 Summary:

On November 1, 1982, the Mumbai Police registered their first ever encounter at Vidyalankar Institute of Technology, Sangam Nagar, Wadala, Mumbai.
Director:

Sanjay Gupta

Genre(s):

Action

,

Crime

Rating:

Not Rated

Runtime:

155 min
Its basis in reality is undermined by Gupta's overly stylized approach and too many camera tricks, though the '80s costumes are striking and the actors wear them well. Performances are broad, but effective, throughout.

No amount of hyper-stylized, Guy Ritchie–inspired posturing can save a film whose lead antihero is so unrepentantly vile.
Shootout at Wadala is the movie of this amazing season. Sanjay Gupta wraps his crime drama under the blankets of John Abraham who gives a

Shootout at Wadala is the movie of this amazing season. Sanjay Gupta wraps his crime drama under the blankets of John Abraham who gives a powerful and great performance as Manya Surve. Along the overheated bloody stylized violence along with hit and sizzling item songs, it rocks. This film takes place in the 1900's where the law was broken and weak, a innocent scholar Manohar played by Abraham gets accused for a crime he didn't do. His stepdad did. Manohar explores the law for revenge and teams up with a master criminal- Sheik Munir played by Tushaar Kapoor. He plans a escape with Sheik and runs off to town. There he messes with other dons and the don of the dons- Zubir Imtaz Haksar played by Manoj Bajpayee a mild mannered man who does illegal activites for the police. And his brother Dilawar Imtaz Haksar played by Sonu Sood who joins and plays the action. Manya strangles with his love life with Vidya played by Kangana Ranaut. A super cop who is also mild mannered- ACP Issuqe Bagwan played by Anil Kapoor tries to arrest Manya who has just made Bombay's first Hindu gang with Sheik. Will Manya get away? Will Bagwan succeed in his mission? Find that and much more in Shootout at Wadala. This film is a tangle of beautiful and bloody violent crime.

…

Collapse