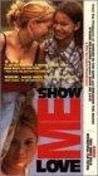 Summary:

In a small Swedish town, Elin (Dahlstrom) is a popular, pretty high school debutante, and Agnes (Liljeberg) is one of the least popular girls in school. On a dare, Elin kisses Agnes to see if Agnes really is a "lesbian" and her life is transformed. Elin discovers that she has been repressi

ng something that was innately there all the time, and the two girls fall in love. (Sonet Films)

…

Expand
Director:

Lukas Moodysson

Genre(s):

Drama, Romance

Rating:

Unrated

Runtime:

89 min
Show Me Love has the pulse of teen life down-pat, shaming its many sleek and glossy American counterparts at every turn.

With honesty, charm and an uncanny sympathy for all its characters, the film takes us deep inside the awkward and exhilarating experience of first love.

Isn't a good movie. It's drab, visually ugly and a little pokey...but the two heroines are so recognizable as real girls, and the young actresses who play them are so appealing, that you keep rooting for these kids.
It's a great great great movie. Love it .

I'm almost 17 and I can say that I have seen a lot of movies in my lifetime. "Show Me Love" is by far one of the best movies I've s

een. I didn't care that it was in Swedish nor did I care that I had to read the subtitles. It was worth it. As the film finishes and the credits roll, the love between Agnes and Elin and their emotions shown eye movement, behaviour and story will burn into the brain. One question that still puzzles me is that how did Lukas Moodysson great outstanding performances from actresses so young?. Watch this film you won't regret it.

…

Expand