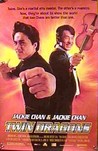 Starring:

Jackie Chan

,

Maggie Cheung

Summary:

Two long lost twins (Chan) -- one a gangster from Hong Kong and the other a classical pianist from New York -- are in the same city at the same time, unbeknownst to each other, leading to a series of comedic instances of mistaken identity.
Genre(s):

Action

,

Comedy

Rating:

PG-13

Runtime:

100 min
The real fun is in seeing Hong Kong pop cinema at its innocent, crowd-pleasing best. And for Jackie, that goes double.

Chan hams it up throughout -- to little avail -- but the final brawl should please fans of his balletic action sequences, that is, if they can endure the full hour of silliness before it.

It's all pretty dumb, but if you're in the mood for this sort of thing, you won't have a bad time. [9 April 1999, Friday, p.F]

An American reissue, with a fresh new soundtrack and all the dialogue dubbed.