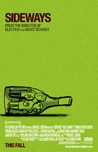 Starring:

Paul Giamatti

,

Sandra Oh

,

Thomas Haden Church

,

Virginia Madsen

Summary:

Two old friends set off on a wine-tasting road trip...only to veer dizzily sideways into a wry, comedic exploration of the crazy vicissitudes of love and friendship, the damnable persistence of loneliness and dreams and the enduring war between Pinot and Cabernet. [Fox Searchlight Pictures]
Director:

Alexander Payne

Genre(s):

Drama

,

Comedy

,

Romance

Rating:

R

Runtime:

126 min
Please enter your birth date to continue:
You are not allowed to view this material at this time.
A sublime variation on the buddy road movie, infusing the midlife crises of the two main protagonists with hope and poetry.

What makes it the best movie of the year -- is its insight into human behavior.

Every performance here is wonderful, and the movie abounds in moments so true as to be cringe-worthy.

A warm, ingratiating, and fitfully hilarious epicurean road movie with a steady ache-an ache like a red-wine hangover.

In this role Giamatti gives his bravest, most generously humane performance yet. Women may be repelled, but men will know this man, because, at one time or another, many of us have been this man.

Alexander Payne's new movie, Sideways, makes you feel like you're trapped at dinner with a wiseass who's trying to convince you what a sensitive guy he is.
It's hard to believe that films such as Sideways exist: films that make the viewer laugh and cry, be shocked and be out of breath, and

It's hard to believe that films such as Sideways exist: films that make the viewer laugh and cry, be shocked and be out of breath, and make them horrified and simultaneously unable to control their laughter. It's a film that takes the viewer in for two hours and drains them of energy as the events that befall the characters become increasingly unpredictable, severe, and often hilarious. Sideways is a film that should be seen by everyone. Regardless of the fact that it was made merely a year ago, it is one of the greatest films ever made.

…

Expand

this movie is neither a 10 nor a 0, but I'm giving it a 10 to offset all of you who don't have a clue. It is very entertaining and

this movie is neither a 10 nor a 0, but I'm giving it a 10 to offset all of you who don't have a clue. It is very entertaining and quite refreshing compared to all the formula crap coming out of Hollywood. All you folks who didn't get it ought to consider staying home to watch something really stimulating, like American Idol.

…

Expand

Giamatti's character's dimensions are written with such care that it makes him tangible and engaging. He's both fragile and explosive. When

Giamatti's character's dimensions are written with such care that it makes him tangible and engaging. He's both fragile and explosive. When set against Haden Church's aging jock it creates a great story with a Laurel & Hardy quality to it. What I liked though is that looks at love were highly imperfect but still had real consequences. Jennifer Aniston is not in this film. The actors are believable. I was able to want to believe them, right or wrong, for better or worse.

…

Expand

Actually, it's a 6.5! Totally overrated by critics, if I'd seen the movie without reading the reviews, I'd give it a 8, but I

Actually, it's a 6.5! Totally overrated by critics, if I'd seen the movie without reading the reviews, I'd give it a 8, but I got very disappointed for a 94 metarating. The type of movie that doesn't have funny jokes, but funny storylines. If you want to watch because you're depressed, you'll just get bored to hell.

…

Expand

This film reminded me of classic literature that critics claim is not to be missed. Sure, if you are looking to study character development

This film reminded me of classic literature that critics claim is not to be missed. Sure, if you are looking to study character development and then talk about it in your film club later. I was simply looking to be entertained. Sideways provided some very funny moments but was far more work and not enough entertainment.

…

Expand

Boring! Smug, middle class nonsense, no laughs at all. you'd be hard pushed to stay awake during this. I can't for the life of me

Boring! Smug, middle class nonsense, no laughs at all. you'd be hard pushed to stay awake during this. I can't for the life of me work out why the critics are fawning over it.

…

Expand

I could only wish to have had bowel cramps during the scence in which Maya and Miles talk about wine. That would have given me an excuse to

I could only wish to have had bowel cramps during the scence in which Maya and Miles talk about wine. That would have given me an excuse to escape to the bathroom and not listen to two contrived, altogther obvious, and decidedly unerotic rambles in which an extended metaphor is run into exhaustion. For the record, I thought _Election_ was terrific, but none of the sharpness of that movie is apparent here. And I'll spare you what I think of those of you who continue to try to review the reviewers on this site rather than the movie itself

…

Expand