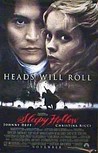 Starring:

Christina Ricci

,

Johnny Depp

Summary:

In woods near the tiny New England village of Sleepy Hollow in the late 18th century, Icabod Crane (Depp) is sent to investigate a series of murders reportedly commited by a headless horseman.
Director:

Tim Burton

Genre(s):

Mystery

,

Thriller

,

Fantasy

Rating:

R

Runtime:

105 min
Please enter your birth date to continue:
You are not allowed to view this material at this time.
Gorgeous filmmaking that brims over with funhouse thrills and ravishing romance.

Sleepy Hollow may be late for Halloween, but this trick is a real treat.

The look of Burton's Gothic dream landscape, both lulling and energizing, is vested with so much power that it could almost substitute for narrative drive.

Despite its flaws, Sleepy Hollow stays with you, the dark beauty of its images powerful enough to invade your dreams.

A film with no theatrical core and no integrity in the writing, acting or storytelling.
Sleepy Hollow has great effects and acting in a creepily effective tale. The whole movie is exciting,
refreshing and every moment isSleepy Hollow has great effects and acting in a creepily effective tale. The whole movie is exciting,
refreshing and every moment is enjoyable. If you're looking for a epic horror thriller, Sleepy Hollow
will satisfy your palate.

…

Expand

We all know that Tim Burton is the master of goth and shock especially his films that are classic like Edward Scissor hands , Beetle Juice ,

We all know that Tim Burton is the master of goth and shock especially his films that are classic like Edward Scissor hands , Beetle Juice , Nightmare before christmas and Ed Wood). But Burton was a master of horror with " Sleepy Hollow" and based on the short story by Washington Iriving the visions of Burton and co- producer/headless horse men effect Kevin Yagher resurrected the Iriving's story and put it perfectly in Burton anf Yagher's vision. Grade A + BEST TIM BURTON FILM EVER !

…

Expand

Fresh spin on the classic story. Love the contemporary twist. After watching the pilot episode, I am now intrigued and committed to watching

Fresh spin on the classic story. Love the contemporary twist. After watching the pilot episode, I am now intrigued and committed to watching the next few episodes. Good writing, good acting, great imagination, all the ingredients for potential greatness. Hopefully, the series lives up to this great pilot.

…

Expand

Tim Burton put his own spin on the classic short story "The Legend of Sleepy Hollow" with the surprisingly good 1999 adaptation Sleepy Hollow.

Tim Burton put his own spin on the classic short story "The Legend of Sleepy Hollow" with the surprisingly good 1999 adaptation Sleepy Hollow. In the movie adaptation, New York detective Ichabod Crane must travel to the mysterious Sleepy Hollow in order to solve a series of murders that took place there, but realizes the town's dark history and the legend of a headless horseman might be the true culprit. Sleepy Hollow is essentially a highly stylized slasher flicks. There are lots of gory decapitations set against a fittingly gothic tone, and although it's never truly heart-poundingly intense, there is a great atmosphere and some creepy imagery. Burton does make this movie a bit darker than his previous films (at the time), but there's still a bit of humor in its heart, mostly because of Johnny Depp's role as the Ichabod. Even though it deviates significantly from its source material, Sleepy Hollow is a fun, atmospheric movie.

…

Expand

Tim Burton o rei das coisas esquisitas porém esse seu toque pessoal transforma suas películas deixando as únicas esse foi caso desse filme

Tim Burton o rei das coisas esquisitas porém esse seu toque pessoal transforma suas películas deixando as únicas esse foi caso desse filme que com certeza o visual sombrio da um ar de beleza.

…

Expand

Tim Burton has brought this timeless classic to life! "Sleepy Hollow" is a very fine film, with horrific delights, a touch of romance, and

Tim Burton has brought this timeless classic to life! "Sleepy Hollow" is a very fine film, with horrific delights, a touch of romance, and witty humor. I was very impressed with the cinematography and the elaborate costumes in this film. Also, the music and sound effects complimented this frightening and legendary story of the murderous Headless Horseman. Overall, I believe this is an excellent film and will definitely be remembered as a landmark in the thriller/horror genre of film.

…

Expand

I don't understand why some people(directors) like to spoil a perfect location+perfect cinematography+jack sparrow(I know that is not his real

I don't understand why some people(directors) like to spoil a perfect location+perfect cinematography+jack sparrow(I know that is not his real name) with a pathetic story line..its neither a horror nor a comedy movie,its one of those fantasy ones I think(never enjoyed those).The story starts off on a promising note,the location too makes you believe that you are in for a thrill and mystery ride but all your expectations come crashing down after next 20 minutes,tops.Its a ride of disappointments where in each turn reminds you to curse yourself for wasting 2 precious hrs of your life on this one.You wont enjoy this one if you are a big fan of the women in black,insidious etc..you know,real horror stuff,the one that would make you wet your own pants.

…

Expand