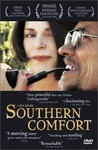 Summary:

Against the backdrop of rural Georgia, this documentary is a portrait of Robert Eads, a transgender female-to-male dealing with ovarian cancer.
Director:

Kate Davis

Genre(s):

Documentary

Runtime:

90 min
The film defuses all preconceptions about the ''issues'' of transsexual identity to arrive at a place of tremulous human power.

Less grim than it sounds, Southern Comfort ends on a note of triumph for its endearing, gender-bending hero.

Eads's wit, generosity, insight, and courage are irresistible.

Works so beautifully because Davis doesn't try to turn Eads and his friends into walking soapboxes for transgendered people.

This capably made HBO documentary takes an understated and compassionate look at a subject that is often sensationalized in other contexts.

Southern Comfort sent shock waves through this year's Sundance Film Festival, even though it is as much about generosity and courage and tolerance as it is about a potentially discomforting subject.
This is a courageous, poignant, groundbreaking film. Through the filmmaker's lens, we see the shockingly ordinary humanity of a

This is a courageous, poignant, groundbreaking film. Through the filmmaker's lens, we see the shockingly ordinary humanity of a misunderstood and oppressed population. The film might have benefited from interviews with self-proclaimed "religious fundamentalists," whose vitriol toward simple, good-hearted folks would present an enlightening contrast.

…

Collapse