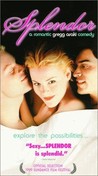 Summary:

Veronica (Robertson) falls for two guys she meets at a party -- witty and intellectual rock critic Abel (Shaech) and passionate punk drummer Zed (Keeslar) -- and the three of them attempt to live together while adjusting to life in their unconventional relationship.
Director:

Gregg Araki

Genre(s):

Comedy

Rating:

R

Runtime:

93 min
There's a genuine, sparky chemistry between the three (and later, a fourth), and Robertson, particularly, is luminous in her role.

Beautifully shot, full of lush, vibrant colors and expertly wrought sets...a club-kid's frothy date flick.

Araki graduates from his usual obsession with teenage angst in this neon-lighted comedy, but fails to hit the visual and verbal high notes he strains so hard to reach.

Compared to such current television shows as ''Sex and the City" and ''Action," this menage-a-trois tale seems downright tame.

Almost a textbook example of what can go wrong when an artistic bad boy decides to be good.

A fair amount of laughs and a spunky dose of charm from the three leads, which adds up to some meaningless, if perverted, fun.