Release Date:

May 25, 1983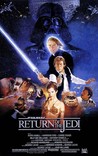 Starring:

Carrie Fisher

,

Harrison Ford

,

Mark Hamill

Summary:

The Millennnium Falcon flashes through hyperspace and creatures from all over the galaxy defy the Galactic Empire. After rescuing Han Solo (Harrison Ford) and Leia (Carrie Fisher) from certain doom at the hands of crime lord Jabba the Hutt, Luke (Mark Hamill) rejoins Yoda. Only by completing

The Millennnium Falcon flashes through hyperspace and creatures from all over the galaxy defy the Galactic Empire. After rescuing Han Solo (Harrison Ford) and Leia (Carrie Fisher) from certain doom at the hands of crime lord Jabba the Hutt, Luke (Mark Hamill) rejoins Yoda. Only by completing his Jedi training can he become a true Jedi Knight and defeat Darth Vader and the dark side of the Force.

…

Expand
Director:

Richard Marquand

Genre(s):

Action

,

Adventure

,

Sci-Fi

,

Thriller

,

Fantasy

Rating:

PG

Runtime:

134 min
'Return of the Jedi' is fun, magnificent fun. The movie is a complete entertainment, a feast for the eyes and a delight for the fancy. It's a little amazing how Lucas and his associates keep topping themselves.

Best of all, a revisit with Jedi makes a viewer appreciate spectacle, presentation, mythology -- that, and the power of a bitchin' helmet to speak volumes in a language even an alien can understand. [Special Edition]

Less original than the first "Star Wars" and less resonant than "The Empire Strikes Back," but packed with fast-paced action and downright cuddly Ewoks.

All the parts of Return that deal with Luke's faith in his father and his appeals for him to reject the dark side of The Force are very emotional. In fact, the best sections of Return are extensions of the melancholy implications of "The Empire Strikes Back." [Special Edition]

Ultimately, Jedi even backs off some of the more tantalizing possibilities suggested by the cliffhanging scenario of "Empire." This inhibition appears to grow out of consideration for the feelings of the juvenile audience, which can enjoy an abundance of thrills and close calls while resting assured that nothing catastrophic is going to be fall the heroes.

Hamill is not enough of a dramatic actor to carry the plot load here, especially when his partner in so many scenes is really little more than an oversized gas pump, even if splendidly voiced by James Earl Jones.

There is hardly any point in discussing the direction of a picture like this, in which almost every shot has been predetermined by the requirements of the special effects, yet director Richard Marquand fluffs the two or three real opportunities he has, rendering the long-delayed character climaxes with a chilly indifference.
The best of the series (and an amazing series it is). This is the quintessential sci-fi/fantasy movie. I love everything about it. It's easily

The best of the series (and an amazing series it is). This is the quintessential sci-fi/fantasy movie. I love everything about it. It's easily in my top 5 movies of all time.

…

Expand

Despite it not being the best of the series, this one is still my favorite. The character development tops off here and is very nice to see

Despite it not being the best of the series, this one is still my favorite. The character development tops off here and is very nice to see the final battle all work out. The scene with Luke, Vader, and Palpatine in the throne room was one of the best final confrontations I have ever seen on film and it was a great payoff. The ewoks weren't really that needed but I can see why they were there. After the film that was Empire Strikes Back, I can see why George thought that we needed that in the film. It was also a nice little ending to see Han and Liea get together and be happy. The scene with Vader and Luke at the end before the death star is a very touching scene before he died. It was also great to see Vader turn on his master and save the day. Bringing Qui Gon's wish from the Phantom Menace come to full conclusion. A great film that is by far the most underrated of the older movies.

…

Expand

Episódio VI é realmente um final épica de uma trilogia que marcou várias gerações. Da trilogia, esse é o segundo melhor filme. Com esse filme

Episódio VI é realmente um final épica de uma trilogia que marcou várias gerações. Da trilogia, esse é o segundo melhor filme. Com esse filme percebemos que a franquia vale a pena. Tem seus deslizes em alguns finais de determinados plots, mas não deixa de ser um maravilhoso filme.

…

Expand

Great ending film but the actual ending is a little of a drag but the special edition edition fixed that with the planets celebrating the

Great ending film but the actual ending is a little of a drag but the special edition edition fixed that with the planets celebrating the empires fall....the jabba scene is fun ....the ewokes who are hated by most fans are not by me i actually saw the ewoke films before the star wars films weird but thats how it went ..and so i have no grudges with them and the final scene of darth with out the mask is just so heart gripping for a true fan its sick.

…

Expand

Clearly, Jedi is the less impressive of Star Wars' first trilogy, but it is still a spectacular viewing. The last act can be considered one of

Clearly, Jedi is the less impressive of Star Wars' first trilogy, but it is still a spectacular viewing. The last act can be considered one of the greatest moments in the Star Wars saga.

…

Expand

While this movie did a good job concluding the character arc between Luke Skywalker and Darth Vader, Star Wars Episode VI: Return of the Jedi

While this movie did a good job concluding the character arc between Luke Skywalker and Darth Vader, Star Wars Episode VI: Return of the Jedi is an underwhelming disappointment.

Rating: 7.5/10

Pros:
+The conclusion of the character arc between Luke Skywalker and Darth Vader is well-executed and reminds us that this is the core of the Star Wars saga.

Cons:
-Lack of significant character development. The revelation that Princess Leia and Luke Skywalker felt shoe-horned.
-While they're cute, The Ewoks had overstayed their onscreen presence.
-The real antagonist which is The Emperor is a very one dimensional villain.

…

Expand

probably the one of the worst film ever made. i mean the worst film to the end of the series. even the phantom menace is better. the plot was

probably the one of the worst film ever made. i mean the worst film to the end of the series. even the phantom menace is better. the plot was terrible. i don't know why george lucas written return of jedi so awful. the only one good thing from this movie: visual effects.

…

Expand