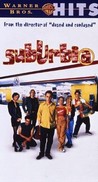 Mr. Bogosian's venomously funny play, which he adapted himself for the screen, is given warmth and generosity by Mr. Linklater, whose elegantly fluid direction and great skill with actors are accentuated by the play's spareness.

Writer-director teamings seldom mesh as smoothly or suggest so many creative affinities as does the one at the heart of subUrbia, a brooding, incisive comedy that blends the talents of helmer Richard Linklater and playwright Eric Bogosian.

What's weird about subUrbia is that Linklater's zoned-out technique is wedded to Bogosian's in-your-face power-rant oratory. The result is like local anesthesia--you can see the incisions, but you can't feel them.

Then there are times when the humor and the pathos of these losers catch you off-guard. Those moments are nearly profound, and elevate the film above the slacker cliches in which it wallows.

subUrbia is a letdown, but at least it reminds us of how innovative Richard Linklater has been until now.

A long, dark night o' slacker despair, courtesy of Richard Linklater and self-important blowhard Eric Bogosian.