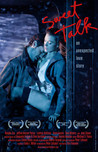 Summary:

A blocked writer and a troubled young woman, who meet over a phone sex line, take a journey together that turns out to be a great deal more romantic and exciting than either of them suspected.
Director:

Terri Hanauer

Genre(s):

Adventure

,

Drama

Rating:

Not Rated

Runtime:

92 min
Zea gives a natural performance amid a neighborhood of painful stereotypes (including a nosy Asian shopkeeper), but she doesn't adjust her cadence, let alone accent, for the historical flashbacks, bringing a modern sensibility that limits the effectiveness of these scenes.

The mustiness of many of the script's ideas hardly detracts from what feels like a radical premise, at least in film — that a woman can get off with a stranger and leave it at that. Erica Jong would be proud.

Hopelessly stagebound, despite halfhearted efforts to open up what's basically a talky two-hander, and risibly pretentious in the manner of soft-core porn that's no sexier than glossy ads for expensive perfume.

It's all very cheap, wholly unconvincing, and loaded with dull narration.