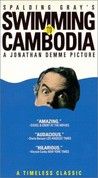 Starring:

Spalding Gray

Summary:

Spalding Gray's stage monologue about his experiences while making "The Killing Fields" and the history of Cambodia.
A mesmerizing odyssey through the mind of a uniquely talented performer, as well as through one of the gorier chapters of modern history.

Gray's haunted, obsessional riffs are absorbing theater. Because Demme had the good sense to lay back and not beat them over the head with his cameras, they're equally compelling on film. [27 Mar 1987]

Mr. Gray's feature-length monologue brings people, places and things so vibrantly to life that they're very nearly visible on the screen.

Spalding Gray's free-associating recollection of his experiences in Thailand during the making of The Killing Fields had an exhilarating immediacy which is mostly absent in this compressed filmed performance of Swimming to Cambodia.

As lectures go, this may be the most fun one yet.

His is a dispassionate sensibility, and he is not a strong enough actor - nor has he a strong enough intelligence - to fight his way out of the false analogy he has drawn between moviemaking and tragic history in the making.