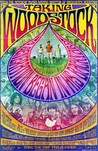 Starring:

Demetri Martin

Summary:

Working as an interior designer in Greenwich Village, Elliot feels empowered by the gay rights movement. But he is also still staked to the family business - a dumpy Catskills motel called the El Monaco that is being run into the ground by his overbearing parents, Jake and Sonia Teichberg.

Working as an interior designer in Greenwich Village, Elliot feels empowered by the gay rights movement. But he is also still staked to the family business - a dumpy Catskills motel called the El Monaco that is being run into the ground by his overbearing parents, Jake and Sonia Teichberg. In the summer of 1969, Elliot has to move back upstate to the El Monaco in order to help save the motel from being taken over by the bank. Upon hearing that a planned music and arts festival has lost its permit from the neighboring town of Wallkill, NY, Elliot calls producer Michael Lang at Woodstock Ventures to offer his family's motel to the promoters and generate some much-needed business. Soon the Woodstock staff is moving into the El Monaco - and half a million people are on their way to Yasgur's farm for "3 days of Peace & Music in White Lake." (Focus Features)

…

Expand
Director:

Ang Lee

Genre(s):

Drama

,

Comedy

,

Music

Rating:

R

Runtime:

120 min
Please enter your birth date to continue:
You are not allowed to view this material at this time.
Taking Woodstock has the freshness of something being created, not remembered.

Lee distills the flavor of this transforming event and hints at how it transformed some who were there. His movie is a contact high.

It's a low-wattage film about a high-wattage event. Which is somewhat disappointing, though you do get a thoughtful, playful, often amusing film about what happened backstage at one of the '60s' great happenings.

Something of a traffic jam--even with his usual restraint, Lee couldn't recount a key moment of the '60s without a blurry parade of personalities--and also lullingly dull.

The picture serves up intermittent pleasures but is too raggedy and laid-back for its own good, its images evaporating nearly as soon as they hit the screen.

Taking Woodstock has a winning generosity of spirit, but even that serves chiefly to underline the film's curious inconsequentiality, as if it were a two-hour pilot for a show about a charmingly eccentric family and a rotating cast of colorful guest stars.

Ang Lee's Taking Woodstock achieves an amazing feat: It turns the fabled music festival, a key cultural moment of the late 20th century, into an exceedingly lame, heavily clichéd, thumb-sucking bore.
Incredible directing by Ang Lee. Ang Lee transported us in time, returning us and uncovered our thinly descised, still simmering bitterness,

Incredible directing by Ang Lee. Ang Lee transported us in time, returning us and uncovered our thinly descised, still simmering bitterness, resentment and anger at the fascist, warmongering, fear mongering, capitalist pig establishment (industrial military congressional complex that sacrificed our young men in a totally unnecessary conflict / war (killing fields) where thousands of Americans and Vietnamese were shot, bombed, displaced, wounded and died. Those antiwar kids "stopped the killing", Man, they stopped the killing of people just because their eyes were not round like ours and their ideologies differed from most brainwashed Americans especially, capitalist, "dead jew on a stick worshipping lemmings" wrapped in the American flag and fighting for Jesus. Innocent kids were shot down at Kent State by the establishment forces. Remember Kent State, anyone?

…

Expand

2 hours of Peace, Love & Music, it's not Woodstock, but it's always in the vincinity of that historic weekend, just over the hill.

2 hours of Peace, Love & Music, it's not Woodstock, but it's always in the vincinity of that historic weekend, just over the hill. At the shabby upstate New York hotel El Monaco, Ang Lee sets us on a beautiful, nostalic journey to the origins of the festival full of hippies, cops, drugs, and upset locals. Demetri Martin is wonderful as the young Elliot, who volunteers his parents hotel to be home base for the promoters, Liev Schreiber is a scene-stealer as a transvestite security guard and Emile Hirsch as a Vietnam vet is heartbreaking. Taking Woodstock is a glorious celebration of its own and, may I add, that it has the best, most authentic acid trip ever captured on film! Far out man.

…

Expand

About 100 minutes into the film, at the end of the festival, we see the hill littered with garbage and alone stand the US national flag in

About 100 minutes into the film, at the end of the festival, we see the hill littered with garbage and alone stand the US national flag in the mud. A requiem for a dream or a token of pride? Ang Lee's seemingly light-hearted and facile approach to the big music event resonates with the contemporary ethos and pathos: the peripheral may speak louder than the mainstream; personal "history" may be eventually written into the GRAND NARRATIVE of history and thus create a dialogue or even hetroglossia. One of Ang Lee's best works!

…

Expand

This is a charming, delightful summer breeze of a film. It's an interesting story of the background of Woodstock for anybody who lived

This is a charming, delightful summer breeze of a film. It's an interesting story of the background of Woodstock for anybody who lived through the 1960's, saw Michael Wadleigh's documentary, or is otherwise interested in the Woodstock festival. Ang Lee does a great job of evoking that place and time. There are some great actors in this, particularly Imelda Staunton, who makes Elliot's iracsible, eccentric mother understandable and believable. Yes, Elliot never gets inside the festival grounds while the concert is going on, but most of the thousands of people who flocked to the area didn't, either. This film almost makes you feel like you're there with Elliot. This is not Ang Lee's best film, but it was more fun than anything else I saw this summer.

…

Expand

Music wafts over a lake teeming with skinny-dippers. "Three days of peace and music" is unfolding at Max Yasgur's farm without us;

Music wafts over a lake teeming with skinny-dippers. "Three days of peace and music" is unfolding at Max Yasgur's farm without us; we're not there to see Richie Havens open the festival, or anybody else take the stage, for that matter. That's because Elliott Teichberg(Demitri Martin) is always hanging around his parents, even after he takes his first tab of acid. "Taking Woodstock" will be a bad trip for those of you expecting nostalgia for dummies. Admittedly, there's no vicarious thrill in watching concert planners plan; we want Jimi; we want Janis, or rather, their thoughtful impersonators. The filmmaker acts as if he couldn't secure the rights to the music. The only live music in "Taking Woodstock" is performed by some amateur band at a warm-up concert for the locals. It's worse than watching Gwynneth Paltrow recite Sylvia Plath-like poetry in Christine Jeffs' compromised film(2003's "Sylvia") about the suicidal poetess. We want the real thing(real poetry, real rock lyricism) not some knock-off, as a payoff to all the minutae that went into mounting a large-scale undertaking like Woodstock. Told in the filmic language of Michael Wadleigh's documentary, the split-screen technique unintentionally parodies "Woodstock" instead of paying homage to the 1970 film, because what it documents seems so mundane and uncinematic. To our disappointment, the little people never give way to the stars. "Taking Woodstock" is limited by a protagonist who loves Judy Garland more than Joan Baez. Elliott's indifference to rock and roll forces the filmmaker to create a period piece movie without a glut of corresponding music as shorthand for establishing time and place. There's no Buffalo Springfield at his disposal; he achieves the look and feel of the sixties almost solely through "mis-en-scene", best exemplified in the scene where we see a late-sixties time capsule as shifting panorama, while Elliott is being escorted to the concert by a motorcycle cop. For what it's worth, "Taking Woodstock" succeeds, even though we're mad at Elliott for not getting us anywhere near the stage.

…

Expand

This movie is an unqualified disaster. The script makes no sense. You never care about the main character and his relationship with his

This movie is an unqualified disaster. The script makes no sense. You never care about the main character and his relationship with his parents and Dimitri Martin never conveys anything but a blank look. Compared to the weirdly dramatic emoting of his parents, it is, as one reviewer said, that they are not in the same movie. And in the end, despite Ang Lee's attention to the background details, the scope of the event is never conveyed. The one shot of the mass of people is unconvincing...It needed one large overhead shot or something....anyway, Ang Lee will be great again, but he is not here.

…

Expand

This was a lazy, charmless, unfocused, first draft of a movie, with an unusual axe to grind against old jews, upstate locals, avant garde

This was a lazy, charmless, unfocused, first draft of a movie, with an unusual axe to grind against old jews, upstate locals, avant garde theater troupers and nearly everyone else who fell into the sites of the filmmakers. for the life of me i cannot understand why people as sharp as ang lee and james schamus would roll film on something so unfinished and immature.

…

Expand