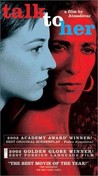 Please enter your birth date to continue:
You are not allowed to view this material at this time.
Beautiful (sometimes sublimely so), daring (sometimes outrageously so), seriously crazed and terrifically funny.

No one can blend melodrama and heightened emotion with laugh-out-loud wackiness the way Almodóvar does.

Like everything else in this superb work of art, ''Shrinking Lover'' is exquisitely Almodóvarian. It's funny, tender, a little shocking, and it pays homage to what we know about movies: that they can move us beyond words.

Almodovar also manages to conclude the film on a hopeful note, and one that will have many audience members wishing that he will someday return to tell more about these characters.

Almodóvar has made a powerfully moving film about men who think they want to lose themselves in their women, then are startled to realize that they're the ones who have been comatose.

Initial strangeness inexorably gives way to rote sentimentality and mystical tenderness becomes narrative expedience.
It is a film of magic - whether it is diabolism or wonder, I can't say, but it is there, and it will captivate you. Almodovar has created an

It is a film of magic - whether it is diabolism or wonder, I can't say, but it is there, and it will captivate you. Almodovar has created an unmined dramatic space for us to dwell in, and knocks any preconceived notions of morality and certainty out of his twisted world, and carries us along into it.

…

Expand

This is a story about the friendship between two men, about solitude, about the long process of healing wounds provoked by passion, about

This is a story about the friendship between two men, about solitude, about the long process of healing wounds provoked by passion, about communication and the lack of it in relationships. About cinema as an ideal vehicle in the realationships between people. Watching as the cinema as storytelleing can stop the time and sets in the life of who´s telling the story and who listens it. "Talk to Her" is a movie about the joy of tell a story and about the words as a weapon of escape of loneliness, death and madness, that madness so close to tenderness and common sense that can´t be so different from reality. In "Talk to Her" there are moments of cinematic perfection, of sublime blend of music and image (as the great cateano veloso singing and the whole almodovarian crew listening --cecilia roth, marisa paredes, paz vega et al--) and moments of unbearable beauty. This is the second great masterpiece of a genius and the best example of narrative as cinema and viceversa.

…

Collapse

Beautiful movie! Really amazing. Great acting. I really liked the plot. This is a must see, you will not be disappointed!

Watch it onlineBeautiful movie! Really amazing. Great acting. I really liked the plot. This is a must see, you will not be disappointed!

Watch it online for free: https://www.primewire.ag/watch-12928-Talk-to-Her

…

Expand

[**Potential Spoilers**] With this mature Almodovar work, gone is the glitz of ten years ago, but not the subversion. If you want a movie

[**Potential Spoilers**] With this mature Almodovar work, gone is the glitz of ten years ago, but not the subversion. If you want a movie that neatly mirrors your own set of prejudices, forget about Talk to Her. The attraction of Almodovar is that he tempers outré sensibilities with the exhausting disciplines of the true cineaste. Suspect situations that would turn to mush in most hands are transformed by the precise emotions elicited from loyal ensembles of actors. The contrivance here is the unlikely friendship struck up by two fellows watching over their comatose loved ones at a hospital. Of course, they?ve already met by chance, at an avant-garde Pina Bausch performance, the one (Benigno) having been struck by the other?s (Marco) tears of feeling. If Almodovar has been esteemed for his depictions of women, here the men?s deepening friendship takes centre stage, filmed against masculine red-earth hues. Marco is infuriated when Benigno wants to wed the apparently brain-dead woman he nurses every day, even more so by his moderate suggestion that they would get along as well as most married couples. Nonetheless, he stands by his (disintegrating) man to the bittersweet end. The most outrageous gag is the reworking of The Incredible Shrinking Man as the ultimate back-to-the-womb fantasy. The subtle joke occurs when the ashen doctor first emerges from the suite of Marco?s girlfriend, gored senseless while bullfighting. In every other movie, he?d break the bad news in the time-honoured fashion. Almodovar?s twist is that the hapless medic can?t get a word in edgeways, as his intended audience of loved ones dissolves into a Spanish maze of side-conversations.

…

Expand

This is a horror movie starring a Spanish Norman Bates. Look out. This is a horror movie starring a Spanish Norman Bates. Look out. This is a

This is a horror movie starring a Spanish Norman Bates. Look out. This is a horror movie starring a Spanish Norman Bates. Look out. This is a horror movie starring a Spanish Norman Bates. Look out.

…

Expand

This one is flawless. Personally I didn't watch much out of Hollywood movies but this certainly can convince that the best stuff is not only

This one is flawless. Personally I didn't watch much out of Hollywood movies but this certainly can convince that the best stuff is not only Hollywood, The underlying messages of loneliness, of friendship tends to take you by surprise sometime. Certainly can see why it's so critically acclaimed. And my score reminds me that I'm not that much of a critic.

…

Expand